When it comes to wearing shorts, there's truly no age limit.
Finding a length that meets your personal preference and helps you feel comfortable, confident, and stylish is all that matters.
If you're feeling hesitant to wear a pair of shorter shorts, but you have no desire to wear a pair of pants to an outdoor gathering, bermuda shorts might be the right option for you.
But how long are bermuda shorts? Where did this item of clothing come from, and where can you find your own pair of trendy and stylish bermuda shorts? Here's everything you need to know about bermuda short length and wearability.
Bermuda shorts are a lengthy short option for women who enjoy casual dress wear without resorting to a dress or skirt. They sit at a specific length, but we'll get to that later.

In most cases, bermuda shorts are well-fit, yet breathable. They can help you pull off a more relaxed look, but they can also be styled in a sophisticated ensemble.
When it comes to fabrics, textures and colors, the options are endless. Bermuda shorts are typically designed with polyester, linen, denim, bamboo, tencel, or bengaline.
Most common bermuda shorts colors are neutral; denim, black, navy blue, beige and white make a traditional look. Of course, you can find gorgeous patterned and bright, bold-colored bermuda shorts if you want to take a chance and express your style.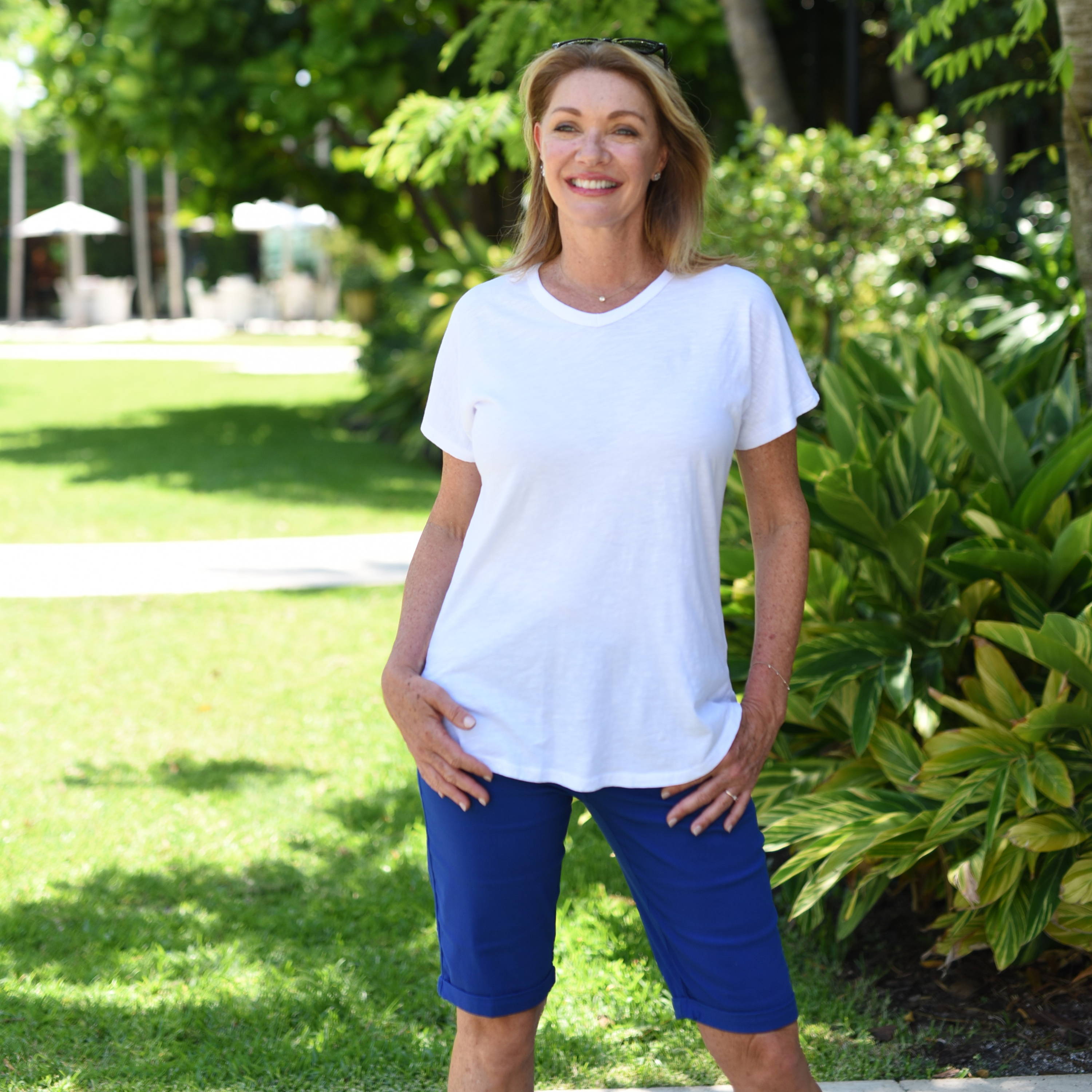 You've heard the phrase 'bermuda shorts' in the past, but do you know where it came from?
Why are They Called Bermuda Shorts?
The origin of this piece of clothing does in fact originate from Bermuda, when the local policemen began sporting shorts that sit just above the knee with a pair of knee-length socks. As Wikipedia states:
"In Bermuda, they are considered appropriate business attire for men when made of suit-like material and worn with knee-length socks, a dress shirt, tie, and blazer. This style is also known for revolutionizing women's fashion. In the '50s, leisure clothing – such as bermuda shorts, pedal pushers, and capri pants – became popular attire in the West."
Bermuda shorts are still very trendy today, and can be seen on men and women of all ages and style preferences.
What's the Difference Between Bermuda Shorts and Capris?
If you've never heard of bermuda shorts but you're familiar with capris, you might have a general idea of what a pair of long shorts looks like. However, length is the biggest difference between bermuda shorts and capris.
Bermuda shorts sit directly above the knee. They also have a more tailored and polished design to them. Capris extend below the knee, generally sitting directly in the middle of the shins. Capris are also more relaxed and casual than bermuda shorts, even though we consider them both sporty and laid-back.
How Long are Bermuda Shorts?
What are bermuda length shorts? Bermuda shorts sit about an inch above the knee, and have roughly a 12-inch inseam. There's not a lot of flexibility when it comes to length and bermuda shorts; this is one of the biggest differences between this clothing item and a pair of capris. You can find a pair of shorter capris, or opt for a pair that sits lower and almost touches the ankle.
Who Can Wear Bermuda Shorts?
Anyone! There's no age restructure to bermuda shorts for women and men alike. Whether you're in need of a business casual ensemble or you simply want a new pair of knee length shorts that elongate the legs, you can rock a pair of fitted bermuda shorts no matter your age.
Where Can I Shop for Bermuda Shorts?
Searching for a pair of bermuda shorts? Anthony's has a variety of cute styles and colors to choose from. We can help you find a classic pair of black high waisted bermuda shorts for the business outing, or introduce you to a fun, vibrant pattern that you can sport at the resort on your next girls' vacation.