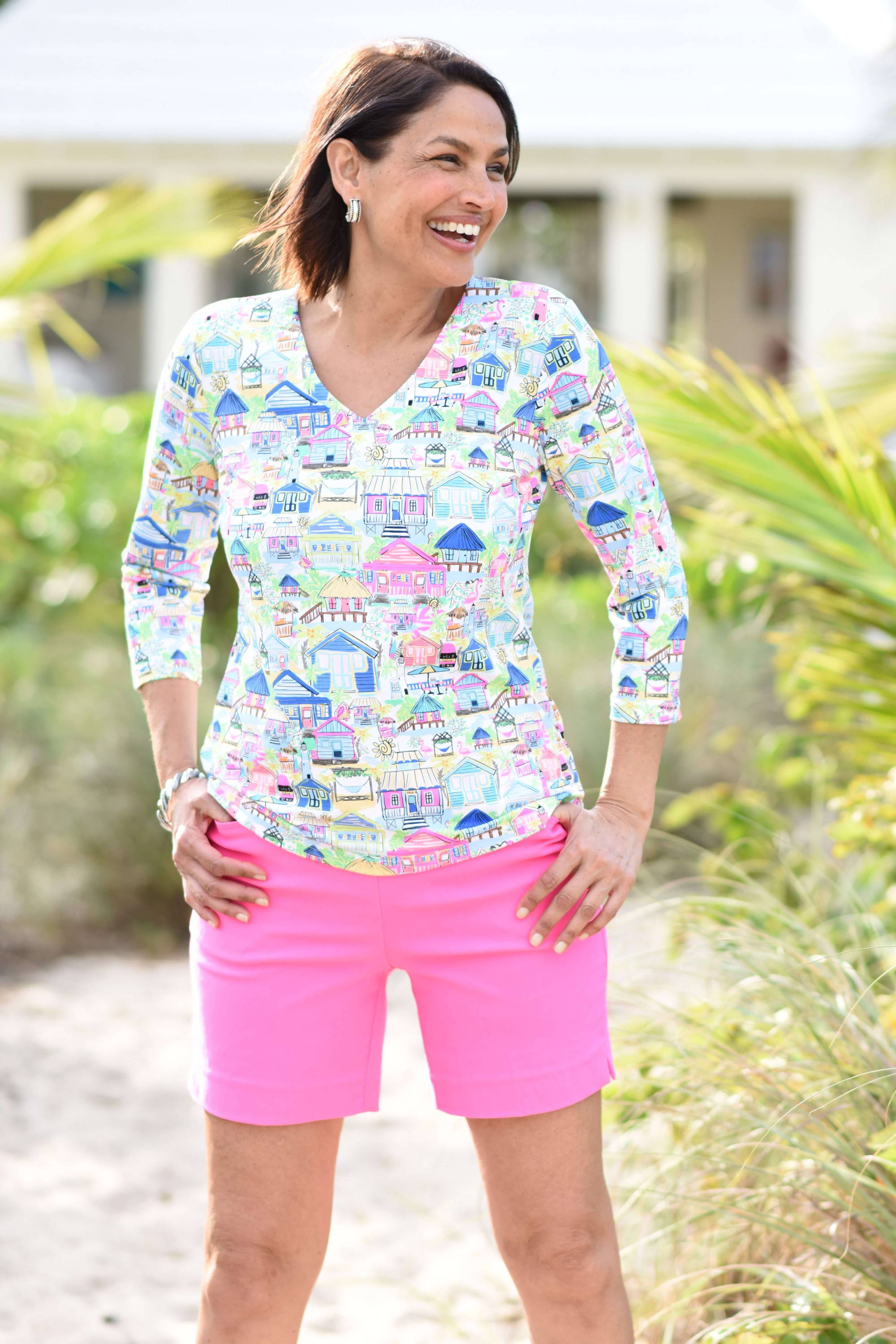 Personal style is paramount for women of all ages and body types, but it can sometimes be difficult to find clothing that feels both age-appropriate and modern for older ladies. Finding the best clothing stores for women over 50 shouldn't be so difficult!
The good news is that Anthony's Florida carries a variety of brands from the best stores for women over 50. In fact, we pride ourselves in offering a wide range of brands that focus on fashion for older women. Specially designed with older women's needs in mind, these garments manage to be mature without being frumpy.
We also seek to carry clothing that is comfortable to wear and easy to care for, with many of our products being ideal for an active lifestyle due to their machine washable, wrinkle-resistant materials.
With over 128 years of expertise in Florida resort wear fashion under our belt, we love sourcing travel-ready apparel that is a snap to pack for all sorts of excursions, from tropical getaways and ocean cruises to close-to-home staycations.
Best Clothing Brands for Older Women
Whether you plan to wear your favorite Anthony's pieces for everyday errands or while jet-setting in exotic locales, we have dozens of unique high quality names to choose from. Here are some of the best brands for older ladies that can help you look and feel confident in your outfit.
1. IBKUL: Premium Performance Sun Protection
Year after year, IBKUL delivers the ultimate in UVA and UVB-blocking apparel. Available in an array of vivid solids and intriguing prints, IBKUL is an Anthony's customer favorite for a good reason: the brand simply cannot be beat when it comes to attractive and durable sun protection clothing with a pop of color.
With a plethora of amazing features such as cooling IceFil fabric that is antimicrobial, moisture-wicking, and wrinkle-resistant, IBKUL excels in crafting premium clothing such as sun shirts, dresses, skorts, leggings, and more for all of your activewear needs. These products are perfect for golf, tennis, gardening, and virtually all other outdoor pursuits.
One of our newest IBKUL offerings is the Mesh Crew Neck UPF50+ Dress. Not only is it an adorable dress with superior UV ray protection and breathable mesh accents, it even has zippered pockets! Currently on offer in four dazzling shades, this sporty dress will add some "athleisure" flair to your wardrobe.
Affordable and cute, Zac and Rachel is a top contender for our most popular brand. While Zac and Rachel is best known for their sleek pants, shorts, and skorts, you definitely shouldn't overlook the brand's pretty blouses.
Though the tops are great for casual wear, they feature delightful details such as ruffles, crochet trim, and flutter sleeves, making them great for dressier occasions. While Zac and Rachel updates their charming printed bottoms seasonally, we attempt to keep the solid-colored basics in stock as much as possible (even though they fly off the shelves)! We also carry petite versions of our hottest Zac and Rachel pieces for Anthony's ladies who are 5'4" and shorter.

An item that our customers are loving this year by Zac and Rachel is the Solid Ankle-Length Jogger Pant. Ideal for exercising or just lounging, these joggers come in several neutral colors, and they are as comfortable as can be with an adjustable drawstring and an elastic waistband. Cute with sneakers or dressy sandals, this ankle pant can easily be dressed up or down to suit almost any purpose.
3. Jess and Jane: Unforgettable Prints and Eclectic         Silhouettes

Renowned for their rainbow-hued knit tops emblazoned with dazzling patterns, Jess and Jane is no stranger to using unique textiles such as mineral-washed cotton, chiffon, and burnout fabrics. Available in various body styles such as ¾ sleeve tunics, button-front shirts, cold-shoulder tees, and asymmetrical tops, Jess and Jane's knit tops are flowy AND showy.
This brand doesn't stop at tops, and we are proud to now carry stylish dresses, leggings, lounge pants, and jackets by Jess and Jane. There's no reason not to fill your closet!

In need of some Jess and Jane in your life? Check out the Santorini Short Sleeve Slub Knit Top.
This sunny top is wonderful for wearing on a casual day trip to the ocean. With a scenic design featuring a seaside paradise, this short sleeve top is cut from lightweight slub-knit fabric, so it will feel as comfy as it looks.
4. Krazy Larry: Bold Bottoms You'll Go Crazy For
If you don't already know about this cult-favorite brand for pants, capris, and shorts, may we introduce you to Krazy Larry? This label's specialty is expertly-tailored bottoms printed with colorful, one-of-a-kind designs.
If patterned pants aren't your thing, then rest assured that Krazy Larry also has an astounding amount of tasteful color options for their solid pants. These pants have a wide pull-on waistband for all-day wearability and are fabricated from a delightfully stretchy bengaline fabric that will smooth and contour your curves.
For a perfect pair, try coordinating these pants with your favorite button-front shirt for an instantly polished look that you'll feel great in from morning to night.

If you want to try out a Krazy Larry printed pant, but you aren't ready for a big splash of color, we suggest the more understated Golf Clubs Pull-On Ankle Pant. The monochromatic golf club design is a great way to ease yourself into wearing printed pants. A basic tee and some strappy sandals are all that's needed to top off this elegant pant for a fabulous ensemble.
5. Coconut Row: Classic Resort Wear Must-Haves
Look no further than Coconut Row's collection of bright, playful tops and smart bottoms for timeless Florida style. Coconut Row's simplicity of great fit, attractive silhouettes, and pretty prints is unsurpassed.
Most popular for its basic-toned skorts, shorts, and pants, Coconut Row's bottoms are refreshed every year with novel details such as decorative buttons, grommets, and rhinestones.
This brand, which is exclusive to Anthony's, also makes clothing in tropical-themed patterns that are sure to be a hit for Monday through Friday outfits and even on your next faraway vacation. The Pull-On Everyday Short is an aptly named classic. A tried-and-true stretch fabric hugs its wearer's shape while a tummy control panel supports the mid-section. This short always looks absolutely classy, whether paired with an tee shirt or a delicate blouse. Finish off the look with an espadrille wedge sandal for an elevated outfit.
6. Ruby Rd: Eye-Catching Coordinated Collections
Specializing in cute separates that can be mixed and matched, Ruby Rd. will ensure that you always have a fashion-forward outfit for all of your resort wear needs. This brand knows how to jazz up everyday womenswear with one-of-a-kind embellishments without sacrificing wearability. With unexpected twists like asymmetrical hemlines, uniquely cut necklines, beads, rhinestones, and more, Ruby Rd. clothing is never just ordinary. Every year, Ruby Rd. releases their "Must Haves"- items that are wardrobe essentials, as well as their fun and creatively named collections that are always a breath of fresh air.

From one of Ruby Rd.'s latest collections, the Geo Paradise Fringed Eyelet Lace Jacket is a great piece of outerwear that can be a transitional piece from winter to spring. With eyelet lace and fringe detailing, this jacket pairs perfectly with a navy ankle pant for an ensemble that will fit right in at a picnic in the park.
7. Anthony's Resort Wear: Exclusive and Exceptional       Designs
Last but certainly not least, we have to talk a bit about our Anthony's Resort Wear brand. Not to toot our own horn, but we are quite fond of our signature line, and our customers seem to be too.
Anthony's features a large assortment of standout prints and dazzling colors on its many tops, dresses, skorts, shorts, pants, and outerwear. Of course, our brand also has a vast selection of UPF50+ clothing for adding a dose of stylish sun protection to your resort wardrobe. Still, the variety doesn't end there- Anthony's makes burnout fabric tops, linen jackets, chenille sweaters, basic tees, leggings, and so much more. After all, we wouldn't put our name on it if we didn't think you would love it!

An all-time Anthony's top seller is the Pull-On Stretch Scallop Short. Available in multiple colors, this perennial favorite is a great way to liven up any day. Practical yet fanciful, these shorts have a forgiving pull-on waist and a cute scalloped hem, so you'll be able to feel relaxed while you look stunning. Worn alongside a plain or patterned top, this short will shine all year long.
Anthony's Has a Look to Fit Your Lifestyle!
We hope you've thoroughly enjoyed this primer into some of the best mature clothing brands for women. What are your favorite Anthony's brands? Let us know in the comments below which labels and looks you can't get enough of, and which fashion brand on our list of best stores for women over 50 looks like the best fit for you!