Though once associated with the rugged outdoors, denim clothing has since been redefined as a polished, sophisticated, and feminine fashion choice.
---
In fact, denim has become synonymous with high-fashion and is showcased on many varieties of clothing and in all shades of the rainbow- a far cry from the blue denim work pants of yesteryear.
Here at Anthony's, we have an extensive range of denim clothing in various colors and with dazzling embellishments. Of course, we also have a wide variety of blue jeans, many of which have pull-on styling and stretchy material so you can feel comfortable while looking great.
We love our denim and are excited to highlight some of our favorite styles for you!
Denim Pull-On Ankle Pant by Krazy Larry
This sleek dark wash denim pant has been designed in a classic blue jean spirit. It is a great foundation to build an outfit on and looks fabulous with a cozy sweater for fall.
Slim, tailored, and stylish.
Pull-on styling with a wide waistband for a comfortable fit.
Tasseled Chambray Tencel Button-Front Shirt by APNY Apparel
Chambray looks similar to classic denim, but is more lightweight, making this shirt ultra-comfortable to wear. The tassels on the hemline also add a unique touch.
Crafted from soft 100% tencel fabric.
Looks great with a plain or printed bottom.
---
Angular Fringe Pull-On Denim Ankle Pant by Ethyl Clothing
Fringed cutouts on the hem add an edgy statement to this posh white pant. Make it pop by pairing with a black top and black accessories.
Pull-on waistband + classic 5-pocket styling = ultimate wearability
Pull-On Capri-Length Jegging by Zac and Rachel
Jeggings combine the look of jeans with the stretchy fit of leggings for the best of both worlds! This jegging capri pant is a great staple to add to your wardrobe.
Available in 4 must-have colors.
Polished look with minimal effort.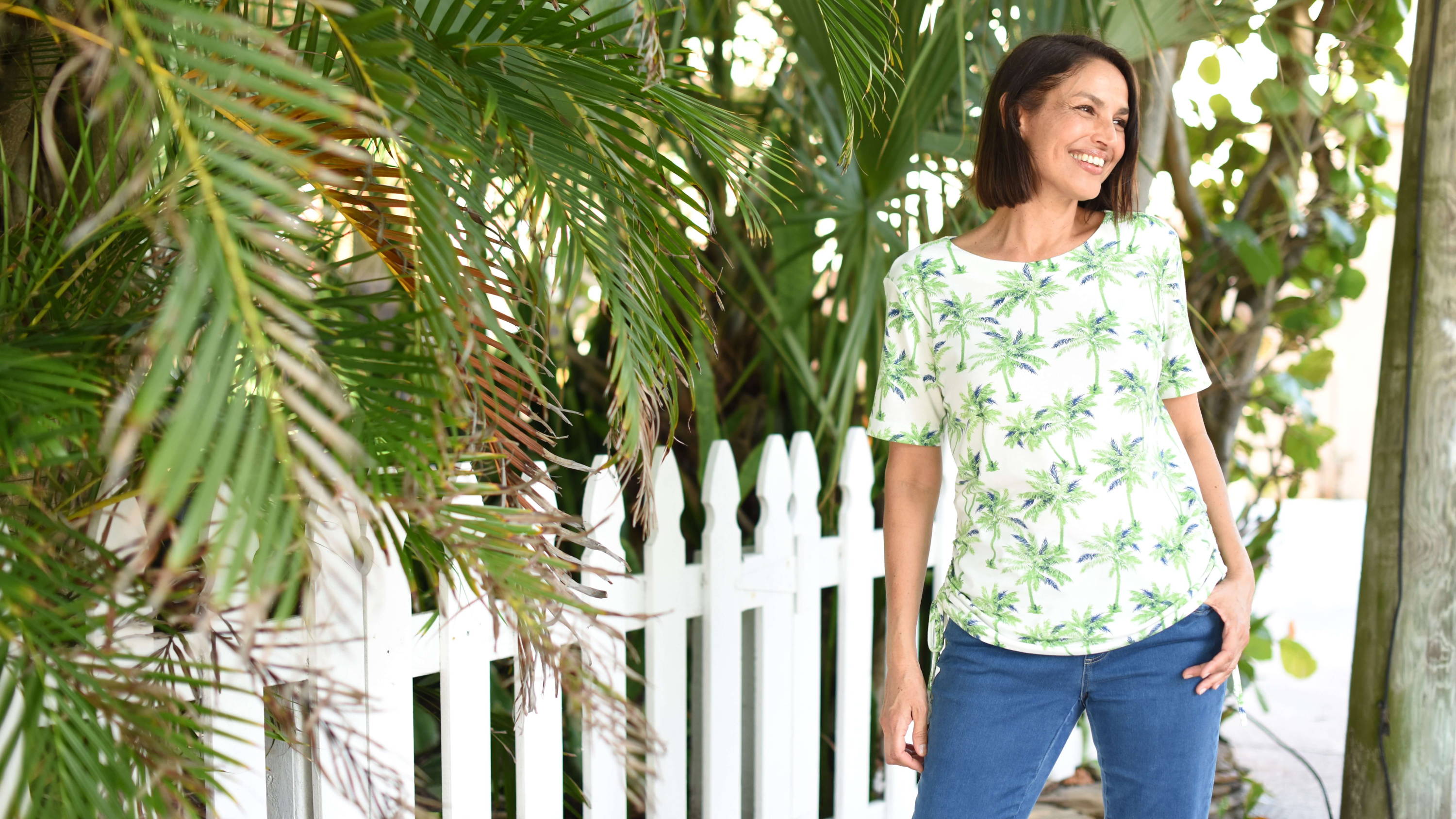 Lace Trim Button-Front Chambray Tank Dress by Raya Sun
Who says that denim can't be feminine? This delightful dress has a dainty lace trim and embroidered details for a gorgeous look.
Center tie-back detail creates a cinched waist.
Pair with tan-colored sandals for a boho chic look.
Rhinestone Embroidered Hem Denim Ankle Pant by Tribal
Ornate with rhinestones and embroidery, these jeans strike the perfect balance between pretty and practical. An on-trend fringed hem adds just a hint of edginess to the mix.
Wear with a plain white tee for a hip yet casual outfit.
---
Tie-Front Wrap Denim Skort by Zac and Rachel
This contemporary-styled skort has a tied wrap silhouette, with a skirted front and shorts in the back. Show off your legs with this cute denim bottom!
Constructed of 100% Lyocell for a lightweight feel. 
Available in 2 different denim wash shades.
Zebra Denim Jacket Printed Knit Tunic by Valentina
Though not actually constructed from denim, this trompe l'oeil tunic top is printed with the effortlessly cool image of a jean jacket.
We hope you've enjoyed our highlights from the plethora of denim styles that we carry!
Blue jeans are a tried and true wardrobe staple, but as you can see, we also love to explore other incarnations of this versatile fabric. Do you have a favorite pair of jeans or a denim jacket that you can't live without, or do you like to include denim in your outfits in more unconventional ways? Let us know all about your most treasured denim pieces in the comments below!