Shorts are a versatile garment that can be worn with virtually anything.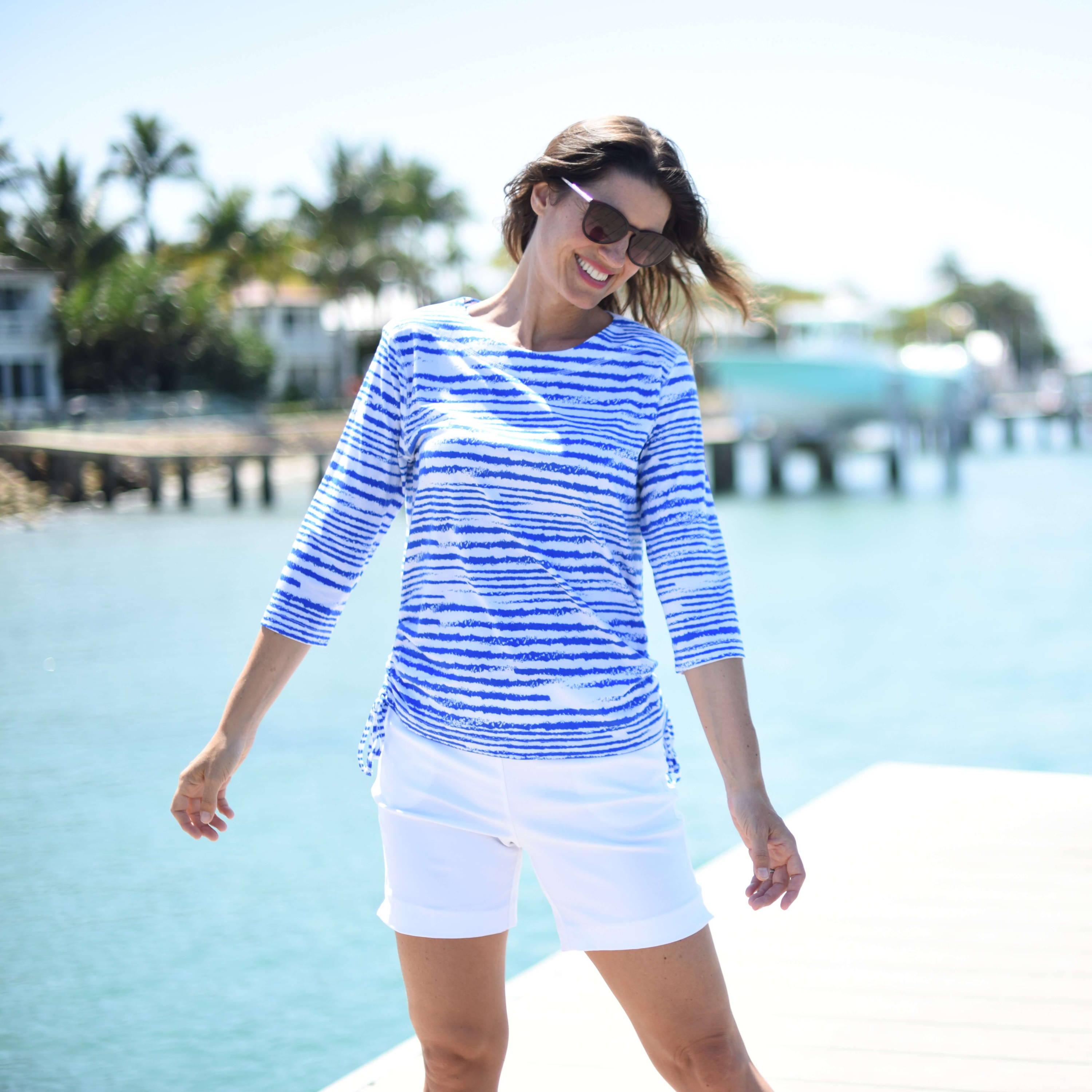 But just because they come with so much adaptability, doesn't necessarily mean that all styles of shorts are for everyone.
Your body type plays a major role in the type of shorts you wear; your legs, torso, hips, and buttocks must be considered when you're searching for a pair of shorts that make you look and feel amazing. After all, style and comfort should always be your top priorities when it's time to dress and express yourself.
With so many different women's shorts lengths and styles to choose from, there's an option for you out there. Searching for the best shorts for short legs? Dying to find the best shorts for an hourglass figure? This guide for women over 50 can help you determine the best shorts length and style for your body type.
Best Length of Shorts for Shorter Women
Do you consider yourself to have short legs? Your own personal height and body composition plays a role in the way your shorts sit, and when your legs are short, it's important to elongate them with an illusion. Shorter shorts are perfect for women who lack inches; if you wear a pair of longer length or mid length shorts, it could make your legs appear even shorter.
Since the length of your shorts is on the shorter side, it's also important to make sure your shirt or blouse does the same. Pairing a pair of shorter length shorts with a long top can look messy and juvenile; choose a flowy mid length blouse that sits on the top of your hips, or a casual laid-back tight top that flows with the rest of the outfit.
Best Length of Shorts for Curvy Ladies
Being curvy can be intimidating when it comes to shorts, but you should never have to cover your legs based on your size. To flatter your figure, we recommend high rise, mid-length shorts. This style of shorts provides coverage, versatility, style, and comfort - four of the most important details to keep in mind when shopping for shorts.
Styling shirts with bermuda shorts and other high-waisted shorts are versatile when it comes to top style - collared shirts, billowing blouses, and basic t-shirts are all options to consider.
Best Length of Shorts for Tall Gals
Wearing shorts as a tall woman can come with challenges, especially if you're intimidated by showing off your long legs. In this instance, mid-length and longer shorts can work in your favor by "shortening your legs" in a sense. You don't necessarily need to stay away from shorter shorts, but we recommend sticking with mid rise waists. High waisted shorts generally shorten the torso, which indirectly lengthens the legs even more.
Longer shirts can be more appropriate if you have a lengthy torso, as this can be another way to create an illusion of shorter legs. But you can also continue to rock shorter blouses and tank tops with these styles of shorts.  
How to Find the Perfect Style and Length
If you're having trouble determining your body type, just remember the following tips:
Get fitted! A tailor or seamstress can help you find a length that works right for you.
Keep fabric in mind. Loose fabric vs fitted fabric makes shorts styles very different.
Stay comfortable. They say "pain is beauty" but this statement doesn't always have to ring true! There's no need to pick style over comfort and vice versa - you can feel great in your shorts and look sleek and stylish, too.
Find Your Favorite Shorts Styles at Anthony's Ladies Apparel
Wearing shorts to match your body shape doesn't have to be complicated. When you take the time to recognize your body shape, prioritize comfort, and accentuate your personal style, you'll find the perfect pair of shorts that you'll never want to lose.
If you're having trouble finding shorts, whether you have long legs or short, check out Anthony's! We have a huge collection of shorts available so there's an option for all body types. From bermuda shorts at knee length to high-waisted, pull-on shorts, we can help you upgrade your wardrobe with ease.
Whether you're getting ready to go on a resort vacation or you're simply in need of a style revamp, we can help! Shop Anthony's for the style, fit, and length of shorts that you love.