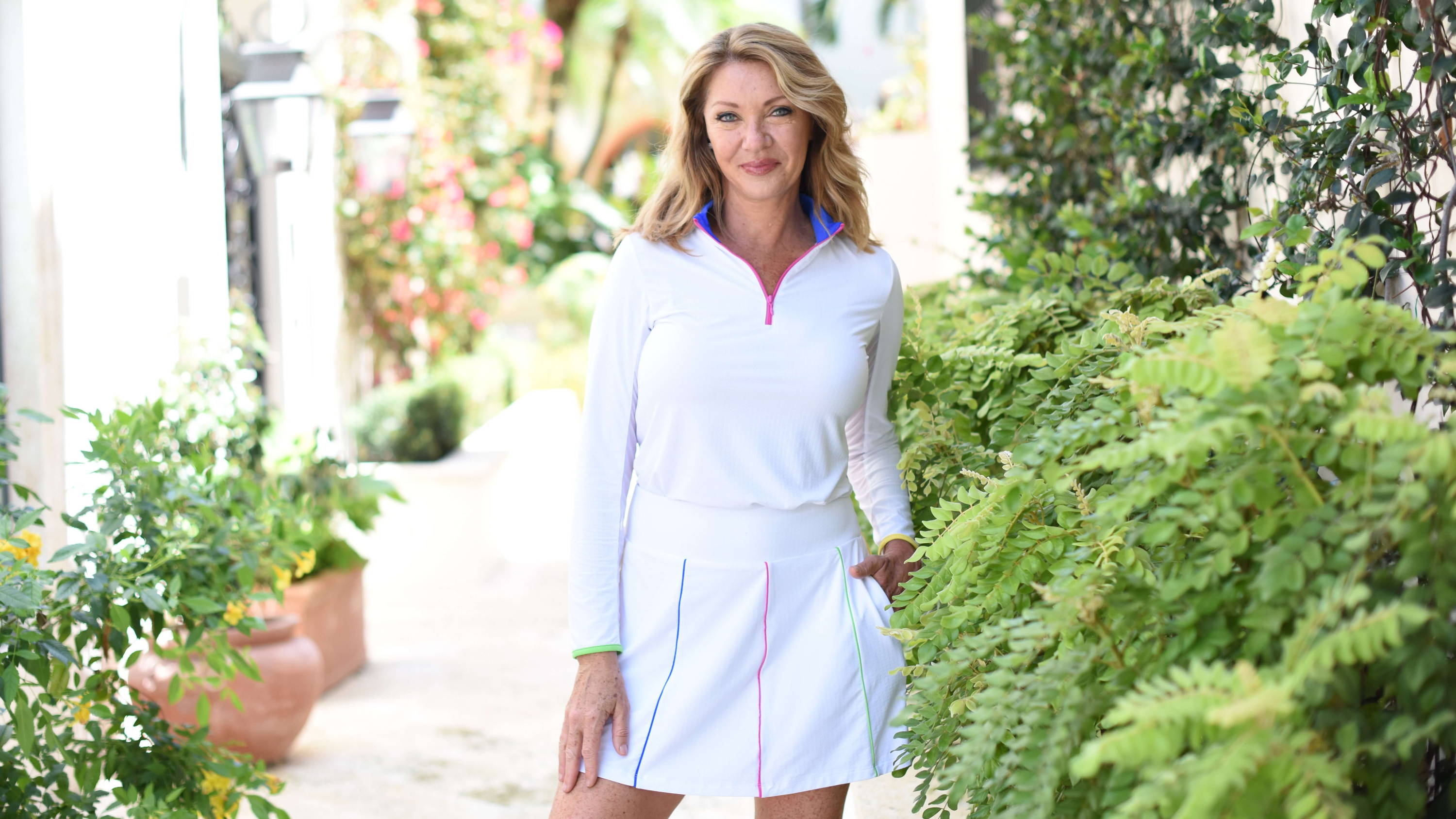 This unusual phrase only makes sense to the pickleball community. I am a complete novice, but I can now see how people get OPD (obsessive pickleball disorder)! This increasingly popular sport has been rapidly growing since the summer of 1965 when Joel Pritchard, an American politician, founded the sport along with two friends to entertain their kids. Pickleball, which is a combination of ping pong, tennis, and badminton, has been sweeping our nation since. This sport serves up fitness, competition, and fun to players of all ages.
Getting suited up for the game is easy with a few pointers from Anthony's Ladies Apparel. You may want to distract your opponents with the Mini Check UPF50+ Flounce Skort alongside the Mini Check Sleeveless UPF50+ Polo Top, both by IBKUL. I love the cute gingham print and bright pink hue. The playful pop of color in this outfit is perfect for a fast-paced pickleball match. Dressing the part builds confidence and psyches you up to go for it!
All in the name of fun, I recruited two friends and took a quick lesson from Debbie, a retired trader who broke down the rules of the game and made it a blast; she explained the basics of this wacky wiffle ball sport to us. We learned that a backhand serve cannot be above your waist, and that serves are always underhand. She explained the two-bounce rule, what the "kitchen" is (the non-volley zone), and where you can volley (the service area). This is a very verbal game with lots of yelling- hilarity can ensue when mistakes are made. Debbie also explained how to keep score: only the serving team can score points, you must win by 2 points, and play goes until 11 points.
Even with all that explanation, she had us playing a game in under ½ an hour! The gentlemen across the court were showing off a bit and slightly distracted us, but we kept our focus. We even got the hang of the lob, which is a high ball in the air to send the opponent off guard. 2 to 4 players can get going pretty fast once the hand-eye coordination kicks in!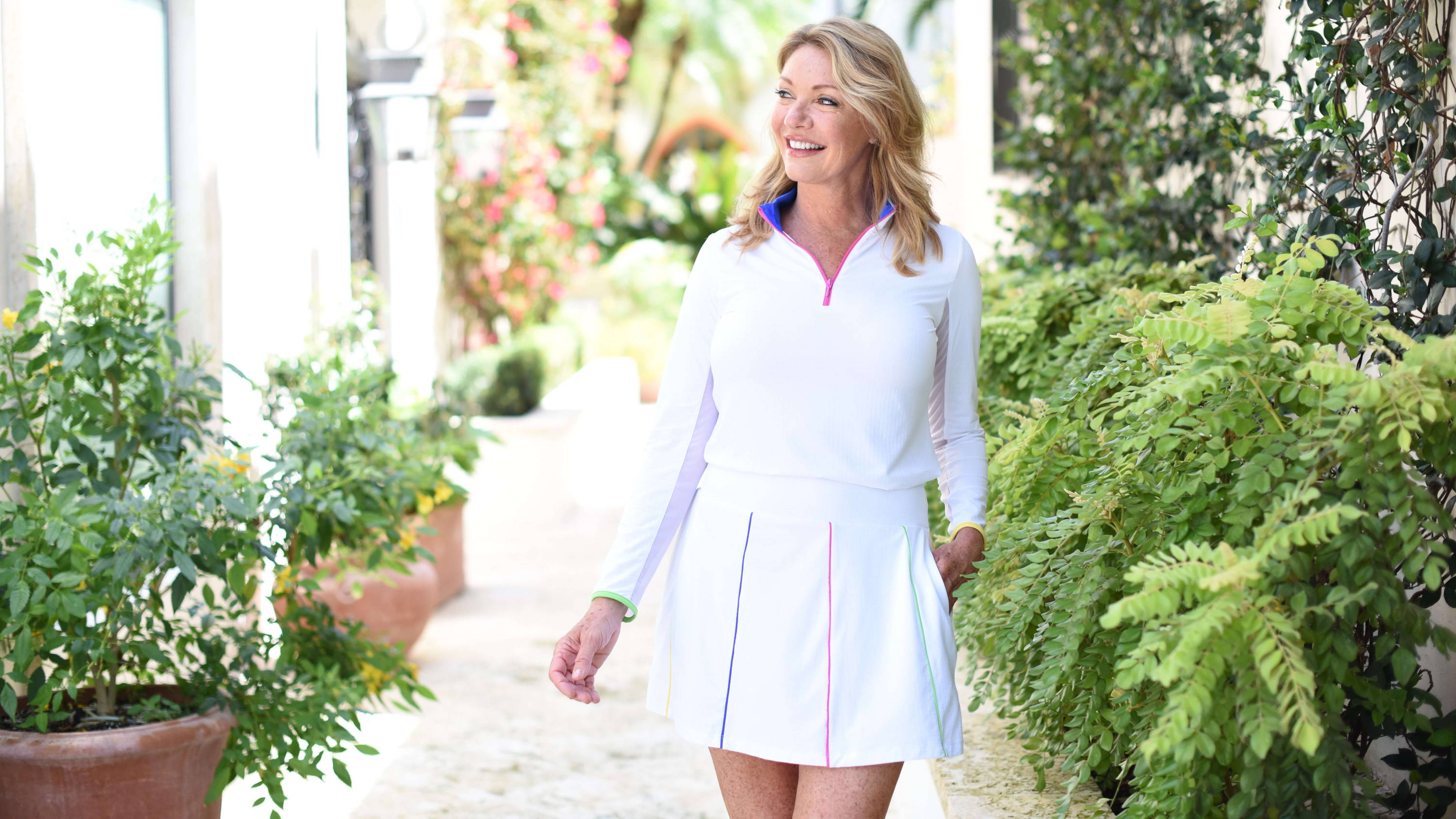 I love the fact that this passion for pickleball has spread like wildfire. It's entertaining and social, not to mention a playful way to work out. Nowadays, there are indoor and outdoor courts everywhere. The conversion from a tennis court to a pickleball court just requires a 36-inch net and repainting the court. Many have even done this DIY project on their own! It's no surprise, given that people are becoming accidentally addicted to this sport. Aside from some attractive athletic attire, a good titanium paddle plus a bag of pickleballs are all the gear you need. In fact, free courts are now a feature of many public parks. You too can go right from the pickleball court to lunch, thanks to new performance fabrics that dry fast and keep you on the go.
Although I am not a serious athlete, I can respect the rules and be a team player. With time and patience, you can also learn a new sport that will bring camaraderie and excitement to your life. So, jump on the pickleball trend and change up your routine a bit- you won't know if you like it until you try it!
---
I'd love to hear about your experience with pickleball! Have you tried it? If so, how long have you been playing and with whom? Let me know in the comments below!