Shorts vs Skorts:
An Experiment
I can honestly say it is tough to pick a winner here because at 57 and living in Miami year-round, I wear both often. My day starts with a morning walk with my 13-year-old dog. On these walks, I like the freedom of having bare legs- my skin can breathe and it just feels right. I have been a sandals and shorts girl my whole life because they make getting out the door a breeze.
As an experiment, I sampled one of each- a short and a skort- for different activities from sporty pursuits to laid-back hang-outs to see how they measured up:
First up was the IBKUL Mini Check UPF50+ Flounce Skort in black. I fell for this cutie right out of the package. I slipped it on and started my routine of constant movement. I have stairs in my house that I go up and down constantly and I am such a busy morning person that they call me "the hummingbird" in my house. The first thing I realized upon slipping into this skort is that I felt like I was still in my pajamas! I felt comfy on my morning dog walk and later did a few errands where I was in and out of the car. I recently got intrigued with pickleball so I met two friends later that day for a match at my local park and was surprised to see a full court of sixty-somethings in serious competition. In case you are unfamiliar, pickleball is a supercharged version of ping pong with a little tennis thrown in. My friends and I were slightly intimidated and decided to power walk and come back for a lesson. We worked up a great sweat, so I decided to pop into the grocery for some coconut water to rehydrate. It was freezing inside the store, but I noticed I wasn't damp. I hate the feeling of clammy clothing and like most of us these days, I combine trips for efficiency. From the park to Publix, I stayed dry and comfortable the whole time. So far, the skort was in the lead!

Next up to try on was the Greek Key UPF50+ Pull-On Short by Anthony's Resort Wear in blue. I paired it with a white Ruched Zip Polo UPF50+ Sun Shirt by IBKUL. I was feeling preppy yet dressed down like I was vacationing in the Hamptons. I was ready for shopping and some brunch, so I wore this ensemble to the Miami Design District where I love to people-watch and look at right-off-the-runway trends from top designers that are out of most people's price ranges. I get great styling ideas and reinterpret them for my budget. I'd say this look passed the test because combining classic pieces with your own twist never fails. I sported a high ponytail with a printed scarf and a coral lip- I felt great!        

The bottom line in bottoms is that we want comfort above all. Thankfully, our current era serves this up with style. I work in a vintage store and I love the designs but boy did they have restrictive clothing back then. I really think you can marry style with function and carry off the modern lifestyle affordably and with originality. Get the pieces that feel right and put your own spin on them. I like to carry cute tote bags and coordinate with colorful accessories.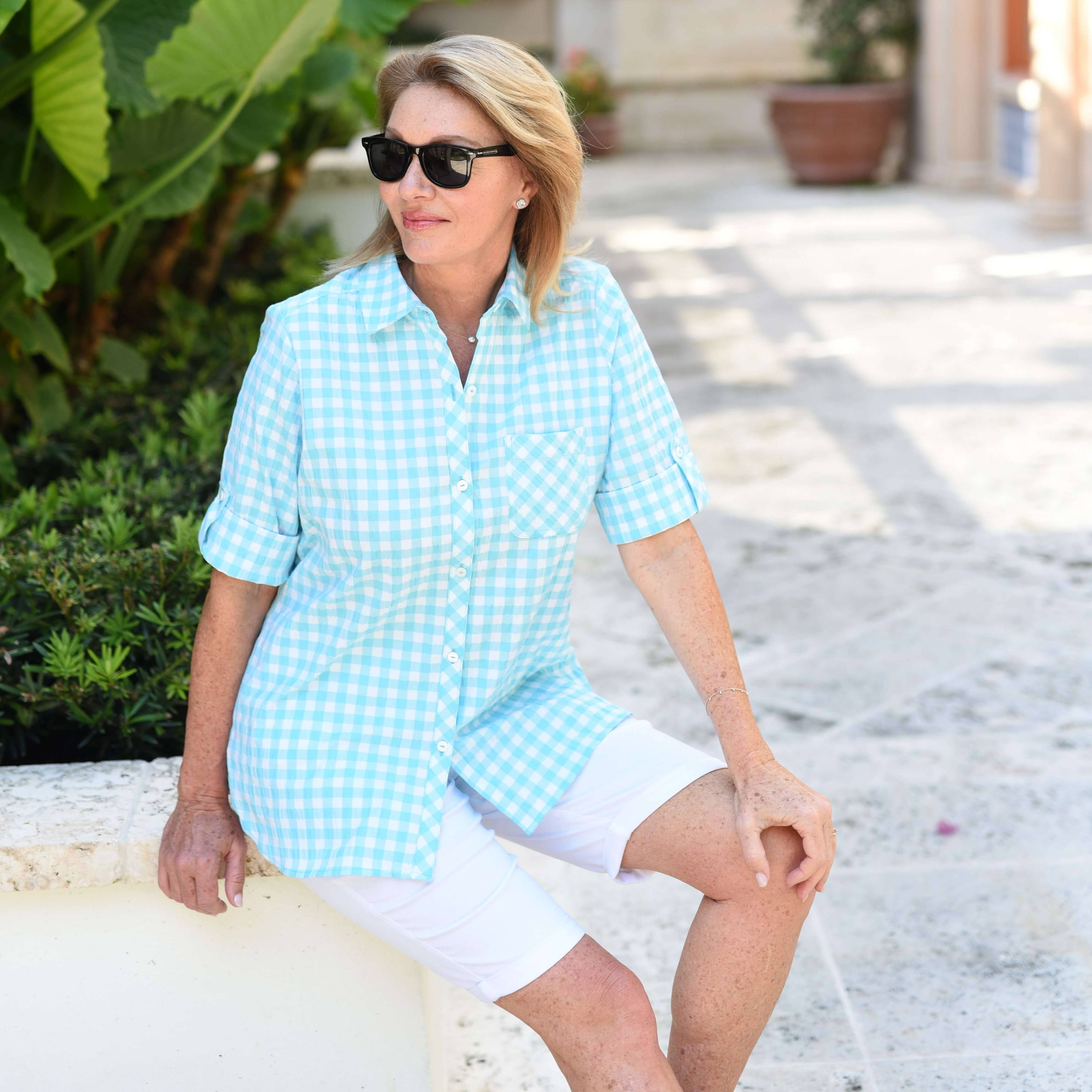 Both of these contenders performed at peak capacity and I recommend both of them, however, my personal top winner is the skort. I plan to keep the test runs going and I will keep you posted on my progress. Pickleball, I'm coming for you!
What's your go-to activewear bottom? Let us know in the comments below!