Here at the Anthony's corporate headquarters in West Palm Beach,
we have been noshing on all kinds of treats around the office and partaking in the general sweetness of this time of year. Although the temperature is still hovering around the 70s and 80s here in South Florida and it doesn't quite feel like the end of December, we are definitely in the holiday spirit. Besides, who needs an excuse to indulge in seasonal cookies and baked goods? We certainly don't! In fact, we would love to share some recipes for holiday treats featuring our favorite Florida-inspired flavors.
Key Lime Shortbread Cookies
These melt-in-your-mouth cookies have the sun-kissed flavor of Key limes baked right into them, as well as stirred into the glaze. These tangy treats are a perfect addition to any Christmas cookie box!
(photo and recipe courtesy of Land O Lakes)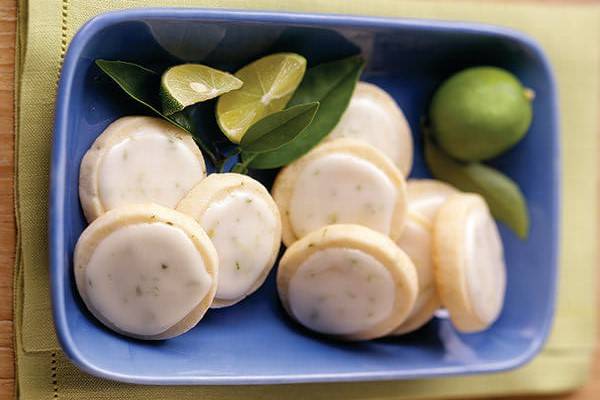 Cookie
1 3/4 cups all-purpose flour
1/2 cup powdered sugar
1/4 cup cornstarch
1 cup salted butter, softened
1 tablespoon fresh Key lime juice
2 teaspoons fresh Key lime zest
Glaze
1 1/4 cups powdered sugar
2-3 tablespoons fresh Key lime juice
1 teaspoon fresh Key lime zest
Garnish
Fresh Key lime zest, as desired
Combine flour, powdered sugar, and cornstarch in a bowl.
In a separate larger bowl, beat butter with a hand or stand mixer at medium speed until creamy. Add flour mixture and all remaining cookie ingredients and beat at low speed until dough forms.
Shape dough into two 10-inch long logs on a lightly floured surface. Wrap each in plastic wrap and refrigerate for a least 2 hours.
Heat oven to 350°F.
Cut logs into 1/4 inch slices with a sharp knife. Place 1 inch apart on ungreased cookie sheets. Bake 10-11 minutes until lightly browned on the edges. Cool for at least 5 minutes, then transfer to cooling rack to cool completely.
Combine powdered sugar and 1 teaspoon lime zest in a bowl. Gradually stir in enough lime juice until desired consistency is reach. Spread glaze on cooled cookies and sprinkle with lime zest if desired. Let cookies stand until glaze is hardened.
Yields 80 cookies
This recipe for fruity bars is a vacation in a cookie. Featuring loads of tropical flavors such as mango, coconut, and macadamia nuts, these bars will take your tastebuds to paradise (even if you are having a chilly Christmas)!
(photo and recipe courtesy of Taste of Home)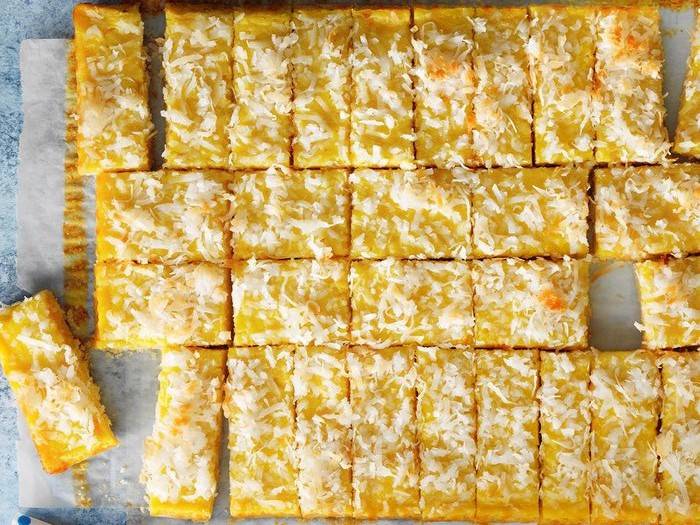 1/2 cup macadamia nuts
2 1/4 cups all purpose flour
1/2 cup confectioners' sugar
1/2 teaspoon salt
1 cup cold butter, cubed
1 medium mango, peeled and chopped
1/2 cup orange marmalade
1/2 cup sugar
4 large eggs
1 teaspoon grated lemon zest
1 cup sweetened shredded coconut
Preheat oven to 350°F.
Process nuts in food processor until finely chopped. Add 2 cups flour, confectioners' sugar, and salt; process until blended. Add butter and pulse just until mixture is crumbly.  
Press into a 13x9 inch baking pan. Bake for 15-20 minutes or until lightly browned.
In a clean food processor, process mango and marmalade until smooth. Add sugar and remaining flour and process until combined. Add eggs and lemon zest and process just until combined. Pour over crust and sprinkle with coconut.
Bake for 23-28 minutes or until golden brown around the edges. Cool on a wire rack. Cut into bars.
Yields 3 dozen bars
---
Easiest Sufganiyot Ever
(Israeli Donuts)
Traditionally served for Chanukah, these delectable jelly-filled donuts are a cinch to make and a joy to eat! For an especially Floridian flavor, we recommend using orange marmalade. If you feel like getting extra-adventurous, you can even fill your sufganiyot with a locally-made fruit preserve, like kumquat, but any kind of jam will do.
(photo and recipe courtesy of Molly Yeh)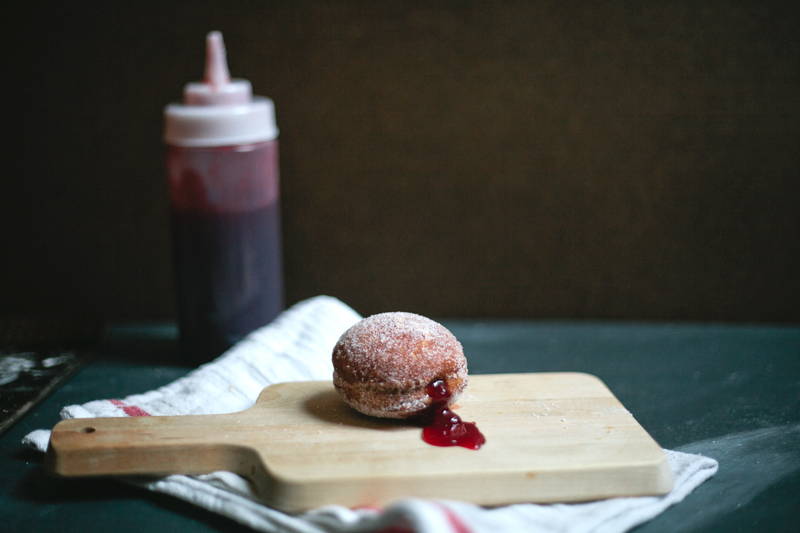 One roll of store-bought biscuit dough
Canola oil, for frying
A small bowl of sugar, either white or powdered
About 1/2 cup of jam
Let dough sit at room temperature for 20 minutes.
On a floured surface, roll out dough until its 1/2 inch thick. Cut out circles that are about 2 1/2 or 3-inches in diameter (you can use a mason jar lid).
Fill a pot with 2 inches of oil and heat it to between 360°F and 375°F.
Fry the dough until each side is deep brown.
Transfer dough to a paper towel, pat off excess oil, and coat with sugar.
When cool enough to hold, fill donuts with jam using a squeeze bottle. If the jam is too thick, warm for 30 seconds in the microwave.
Yields 8-10 donuts
---
Guava and Cream Cheese Twists
Inspired by Cuban pastelitos, these cookies feature guava paste centers wrapped in tangy cream cheese-infused dough. Somewhat similar to rugelach, another Chanukah favorite, these twists are perfect for sharing no matter which holiday you celebrate!
(photo and recipe courtesy of NYT Cooking)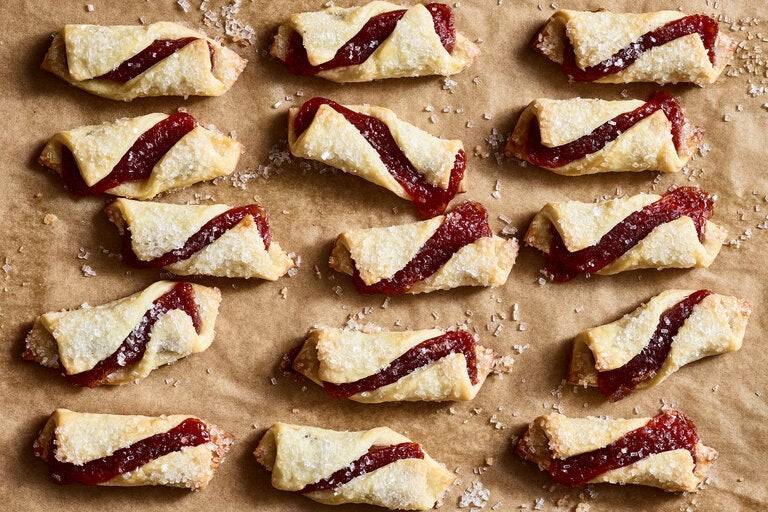 1/2 cup unsalted butter, softened
4 ounces cream cheese, softened
2 tablespoons granulated sugar
3/4 teaspoon fine sea salt
1 large egg (yolk and white separated)
1 cup all-purpose flour
11 1/3 ounces guava paste
Extra sugar, for sprinkling
Beat butter and cream cheese using an electric mixer until creamy and smooth. With the machine still running, add sugar and salt and continue beating until fluffy. Add egg yolk and beat until incorporated. Add flour and mix until just incorporated.
Halve the dough and place each half on plastic wrap. Using the plastic wrap, press each half into a 1-inch thick rectangle. Wrap completely and refrigerate until firm, about 2 hours.
Heat oven to 350°F.
Cut guava paste into fifty 1/4 inch thick rectangles (2 inches long x 1/2 inch wide). Line 2 baking sheets with parchment paper.
On a generously floured surface using a well-floured rolling pin, roll out 1 dough rectangle until 1/8 inch thick. Trim the edges and cut into 24 rectangles. Transfer to a sheet, spacing 1 inch apart.
Place a guava paste triangle in the center of each piece of dough on a diagonal. Wrap the corners of the dough over the guava paste towards the opposite edges.
Brush the dough with the remaining egg white and sprinkle with sugar.
Bake for 13-15 minutes or until golden brown on the edges. Cool completely.
Yields 50 cookies