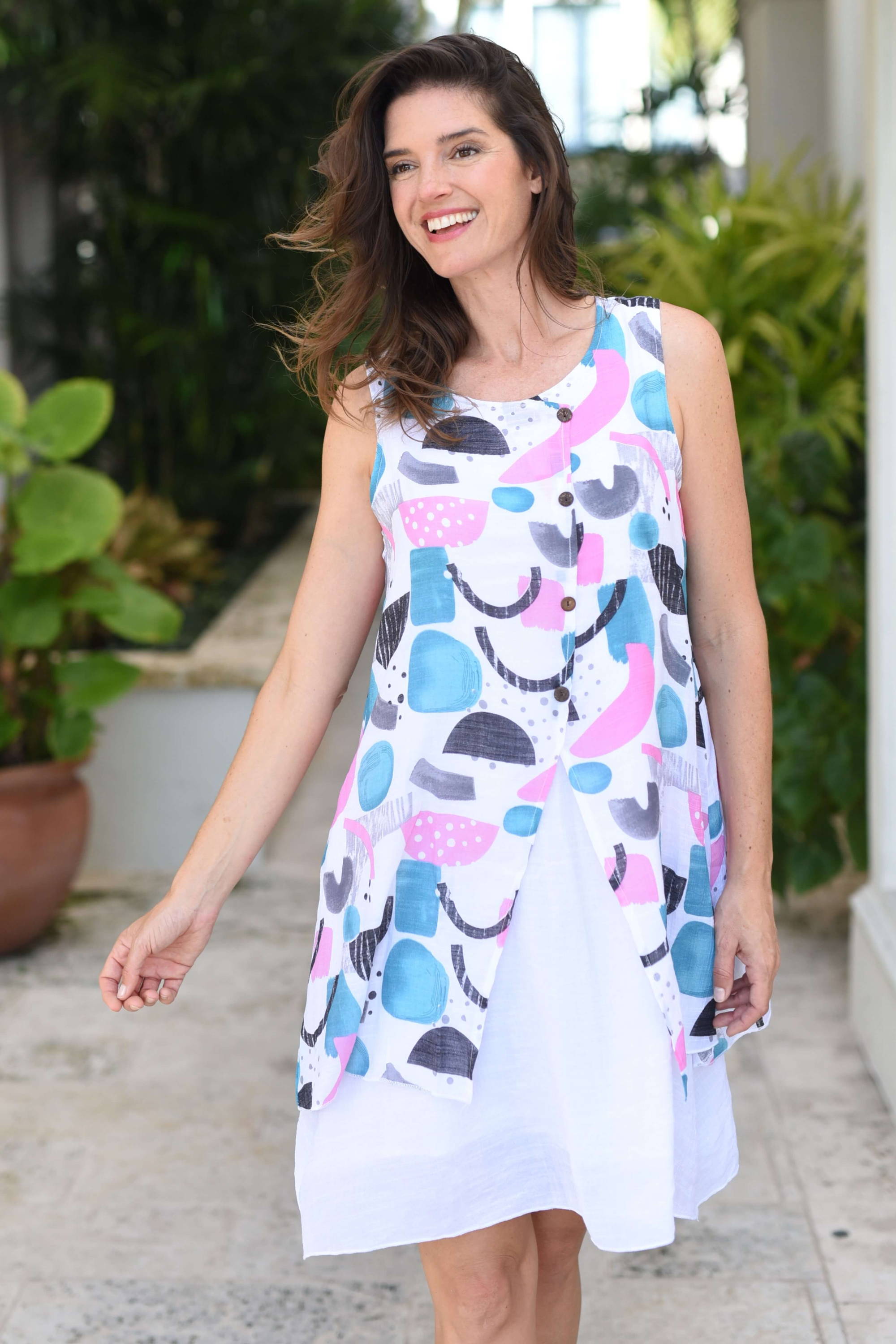 There's no denying it: summer is here. Long days full of Florida sunshine give way to balmy nights, and we can think of no better way to spend our time than lounging near the ocean, where the sea breeze offers a welcome reprieve.
The looks we want to highlight this year feature a palette of serene blues accented here and there with bright rainbow colors, reminiscent of a day at the beach in late July. So grab an icy beverage and let us help you beat the heat with these cool styles!
Resort Wear 2023: What to Wear to a Resort for Women Over 50

Finding the right clothes to wear on an upcoming resort vacation shouldn't be so difficult! There are so many chic and comfortable options for resort wear for women over 50 from Anthony's. Here are some of our favorite options to consider.
Solid Sun Shirt + Bermuda Short
Periwinkle is one of our favorite colors, and IBKUL does it impeccably well, as seen here on their Solid UPF50+ Sun Shirt. This highly-acclaimed top is the perfect barrier against UVA and UVB rays and looks great when worn alongside the New Millennium Bermuda Short by Zac and Rachel for a sporty summer outfit.
Printed Tankini Top + High-Waisted Swim Bottom
In need of a comfortable bathing suit option you can look and feel confident in? Consider the Fantasy Island Twist Front Tankini Top and the Fantasy Island High-Waisted Swim Bottom, both by Bleu by Rod Beattie, for long days of surf, sand, and fun in the sun. Don't forget the sunscreen and sunglasses for protection during your vacation!
UPF50 Sleeveless Dress + Scalloped Cardigan
Featuring a nautical design with a sailboat fleet, the Regatta Blues Lexi UPF50 Sleeveless Dress by Ana Clare is a nautically-themed number that features top-notch sun protection. Wear this fabulous dress while boating, taking long walks on the beach, or anytime that you want to feel close to the sea. If you feel a chill, simply throw on the white Zac and Rachel Double Scalloped Cropped Cardigan!
Ruffled Dress + Frayed Linen Jacket
An all-over floral lattice print against a deep blue background gives the Anthony's Resort Wear Floral Art Deco UPF50+ Ruffle Dress a bold, geometric look. In addition, this chic dress is outfitted with sun-shielding UPF50+ technology and is a superb choice when packing for a weekend getaway. Pair with a jacket, such as the Frayed Linen Jacket by Anthony's Resort Wear, for a complete ensemble.