Though winter is upon us, we look to a palette of radiant colors- coral, aqua, bright green, and baby pink- to help us imbue our lives with the beauty of spring's flowers.
The last couple of years have been challenging to say the least, but now that it's 2022, we have a renewed optimism and are ready to wear it on our sleeves! The hues we feature here are reminiscent of the first blooms to peak through after months of chilly weather, beckoning us to celebrate nature's dependable rhythms. Here at Anthony's, we invite you to "Live Life in Color"!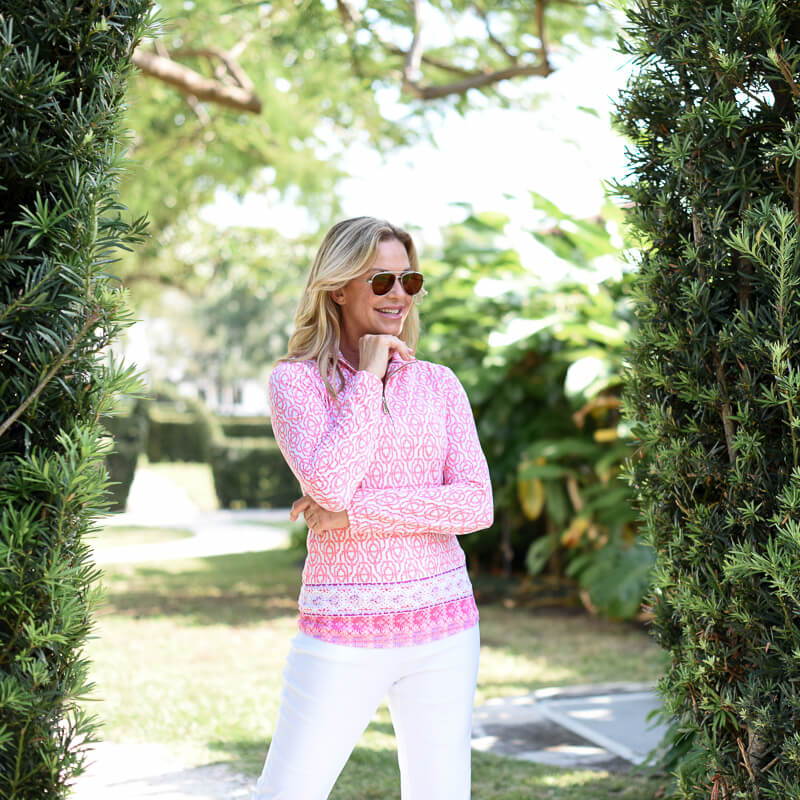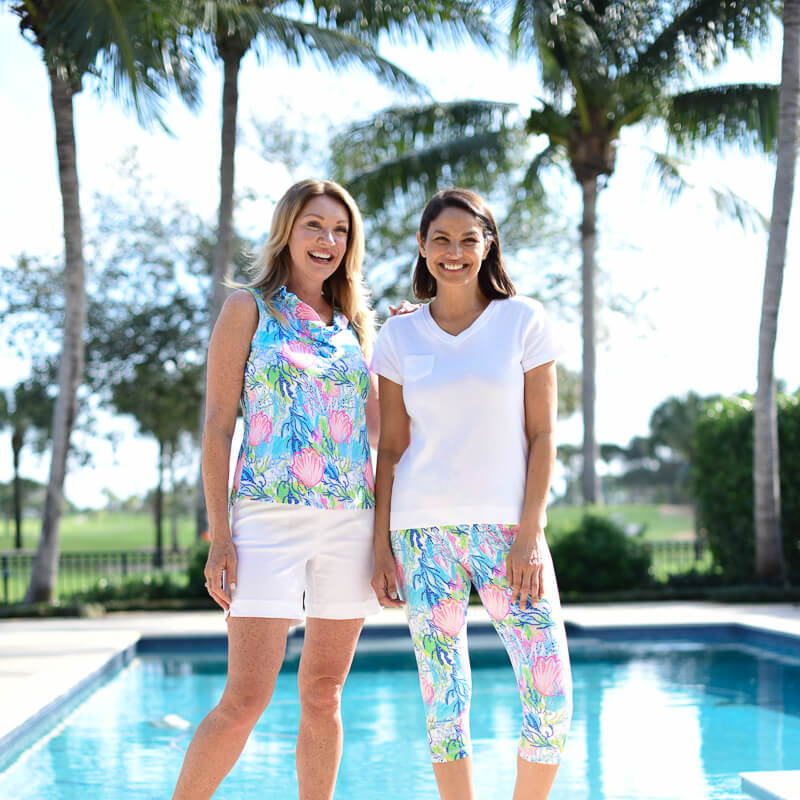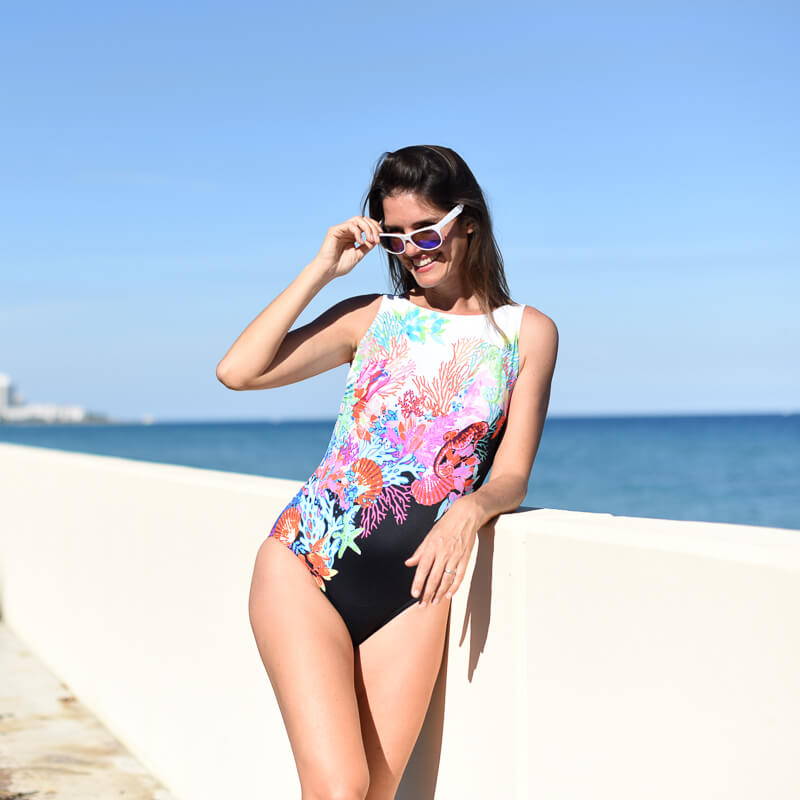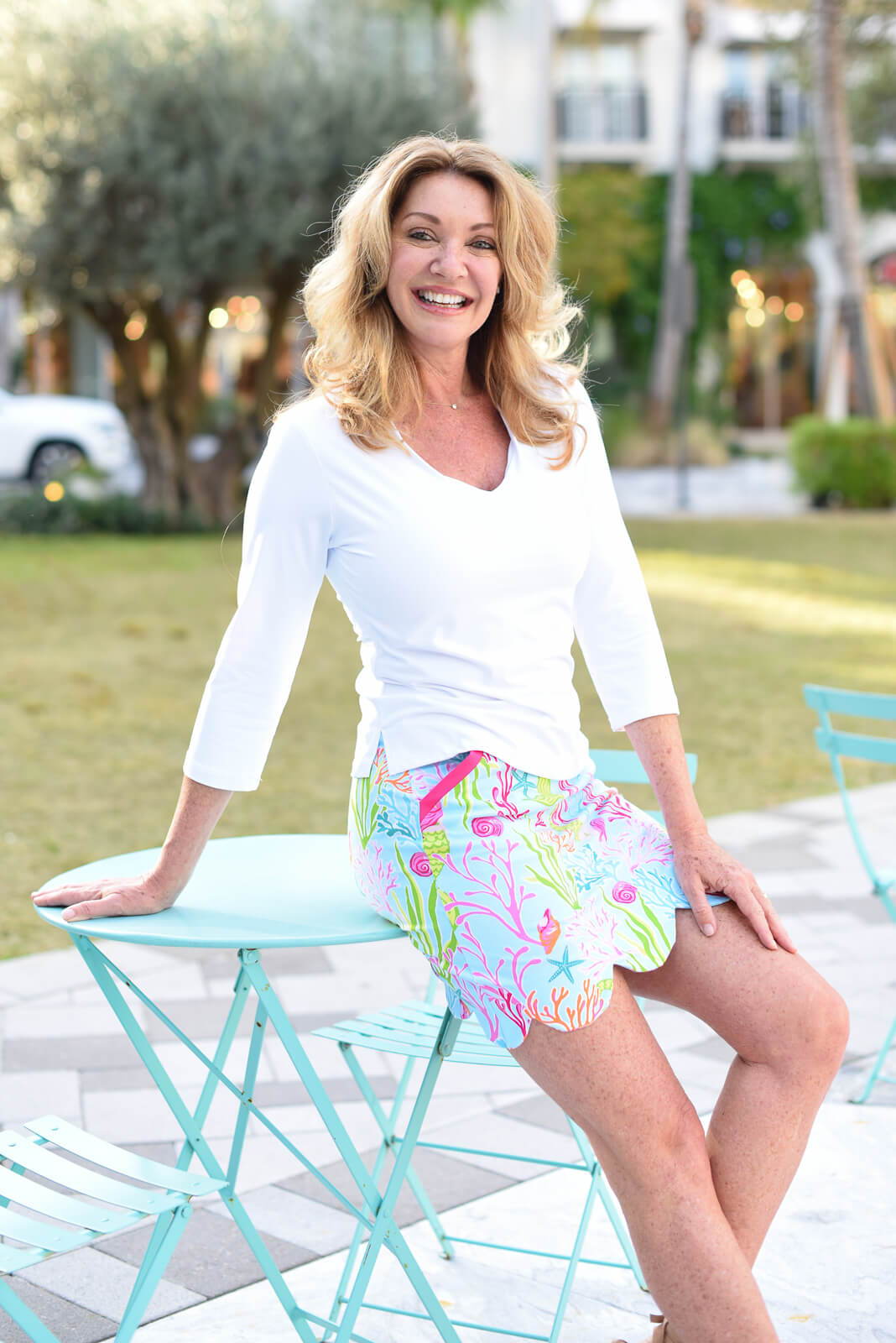 Underwater-inspired prints in bright hues lend themselves perfectly to resort wear looks. Awash in brilliant maritime patterns, you'll be primed for your next adventure- whether it be a relaxing staycation or an exotic island getaway.
This ensemble by Ana Clare is a great example of an aquatic design done right. The skort makes a splash with a pastel mermaid motif and a scalloped hemline, while a pairing with a simple white top expertly balances the look.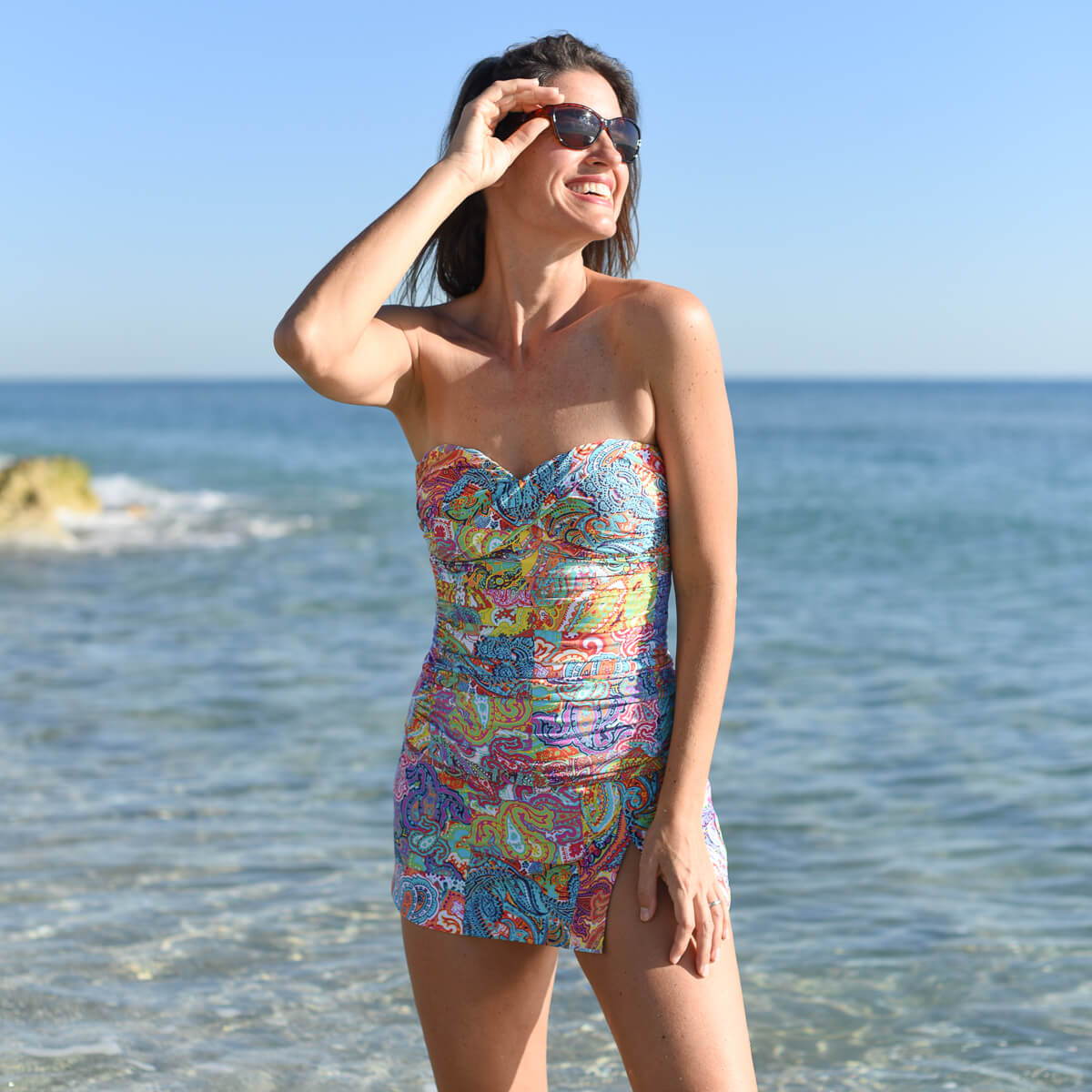 This playful paisley swim look has been crafted by none other than customer favorite Bleu by Rod Beattie. With contemporary silhouettes and eye-catching prints, this brand doesn't disappoint. This bandeau tankini top has a twisted bust and it matches perfectly with the pretty swim skirt, both featuring the popular "Bohemian Beauty" design.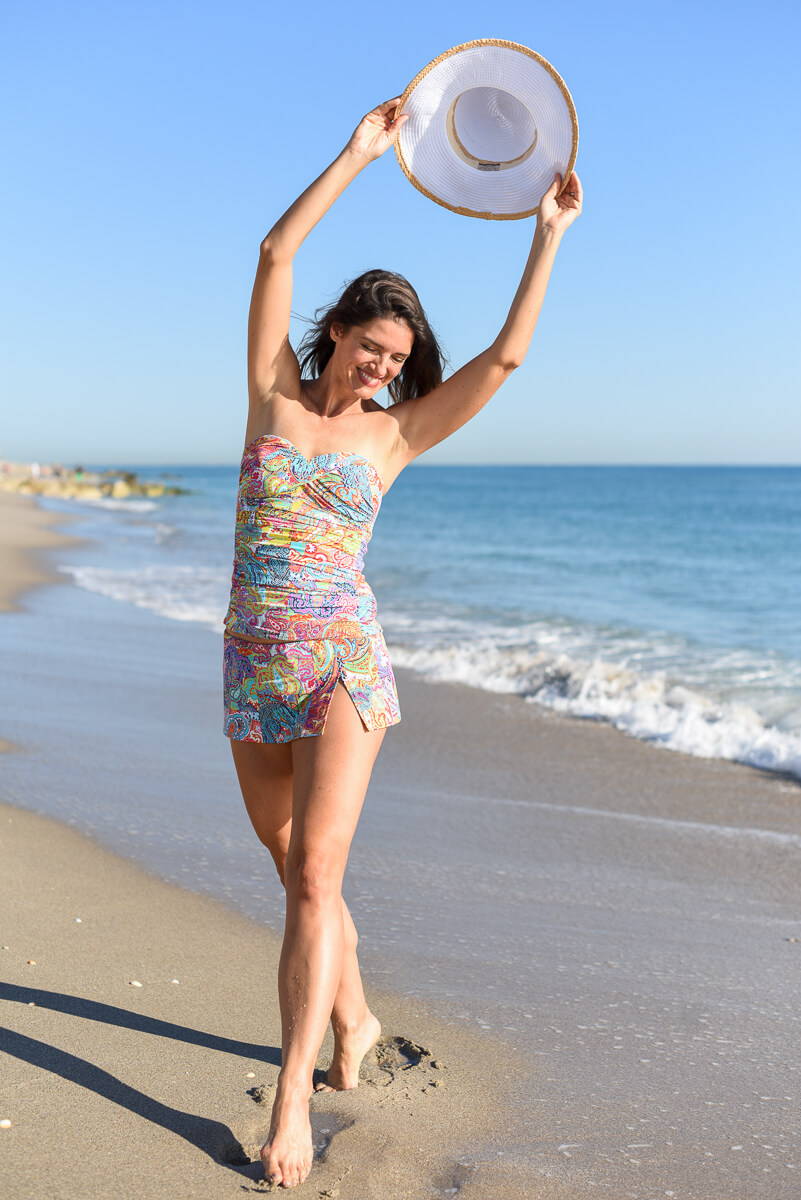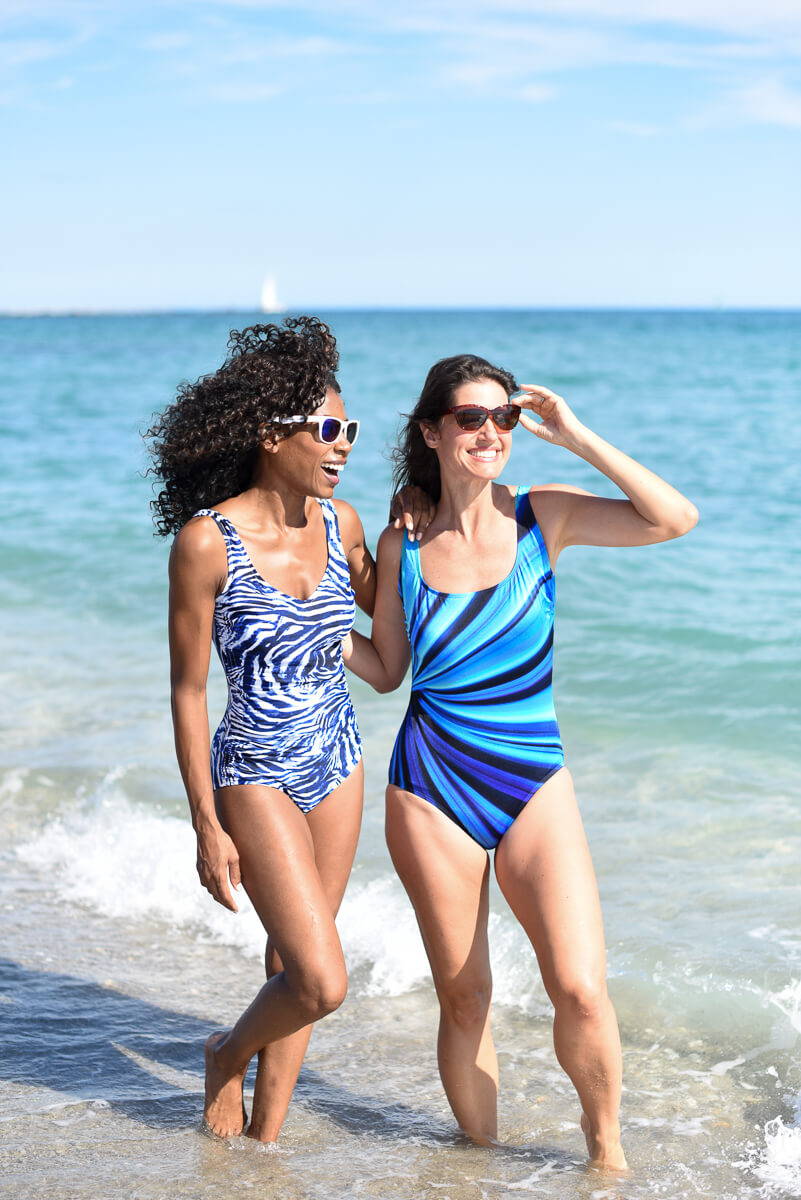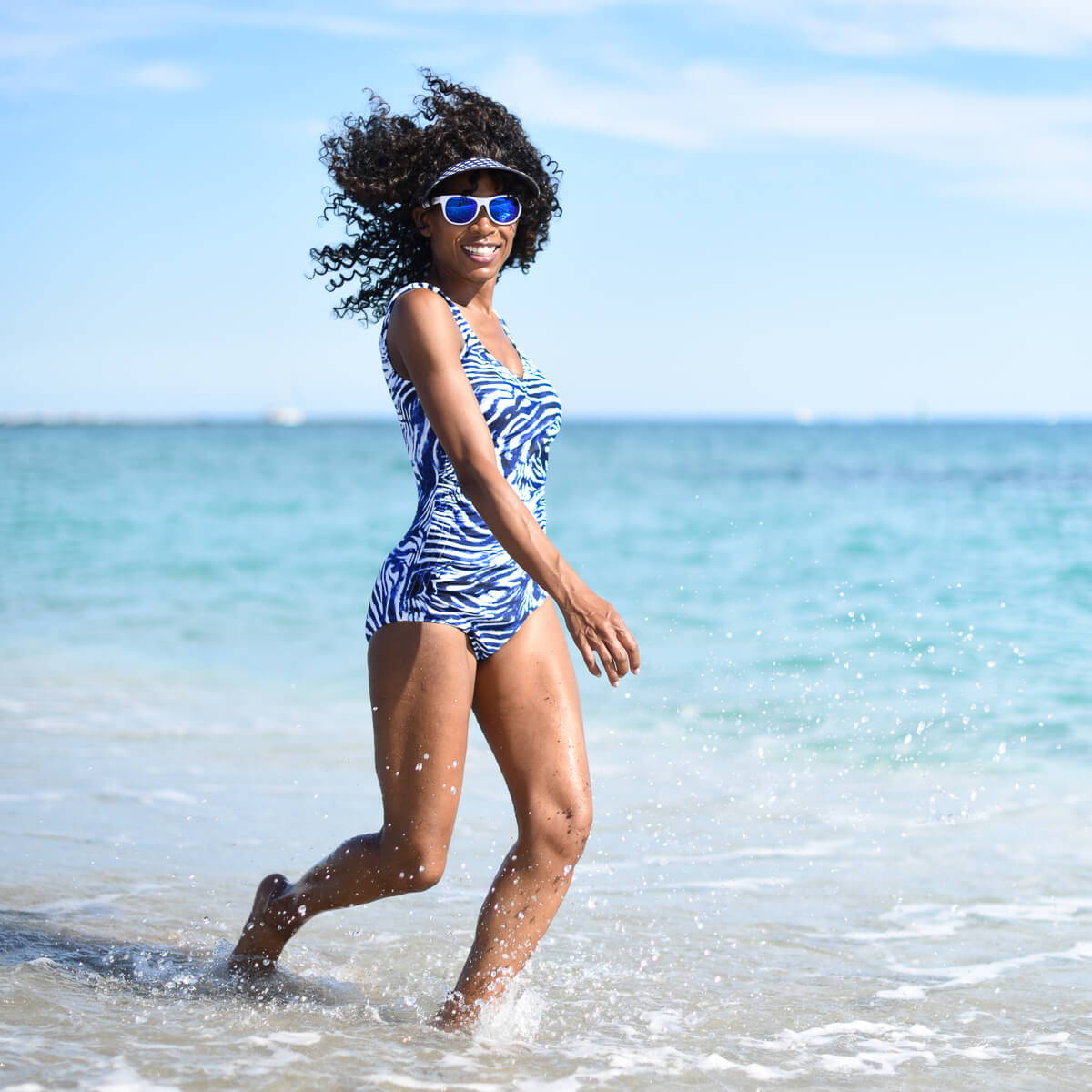 Get tangled up in blue in these beautiful one-piece swimsuits! A timeless choice for swimwear, shades of navy, turquoise, and aquamarine evoke sapphire seas and cerulean skies.
Side shirring on the Maxine suit helps sculpt a flattering figure while the allover zebra pattern in alternating white and royal blue creates a pleasing visual effect. This is not your average maillot!
If a classic tank swimsuit is what you're after, check out this Longitude number. A sunburst design in assorted blue colors sweeps across the body which also boasts wider, more comfortable straps than most one-piece bathing suits.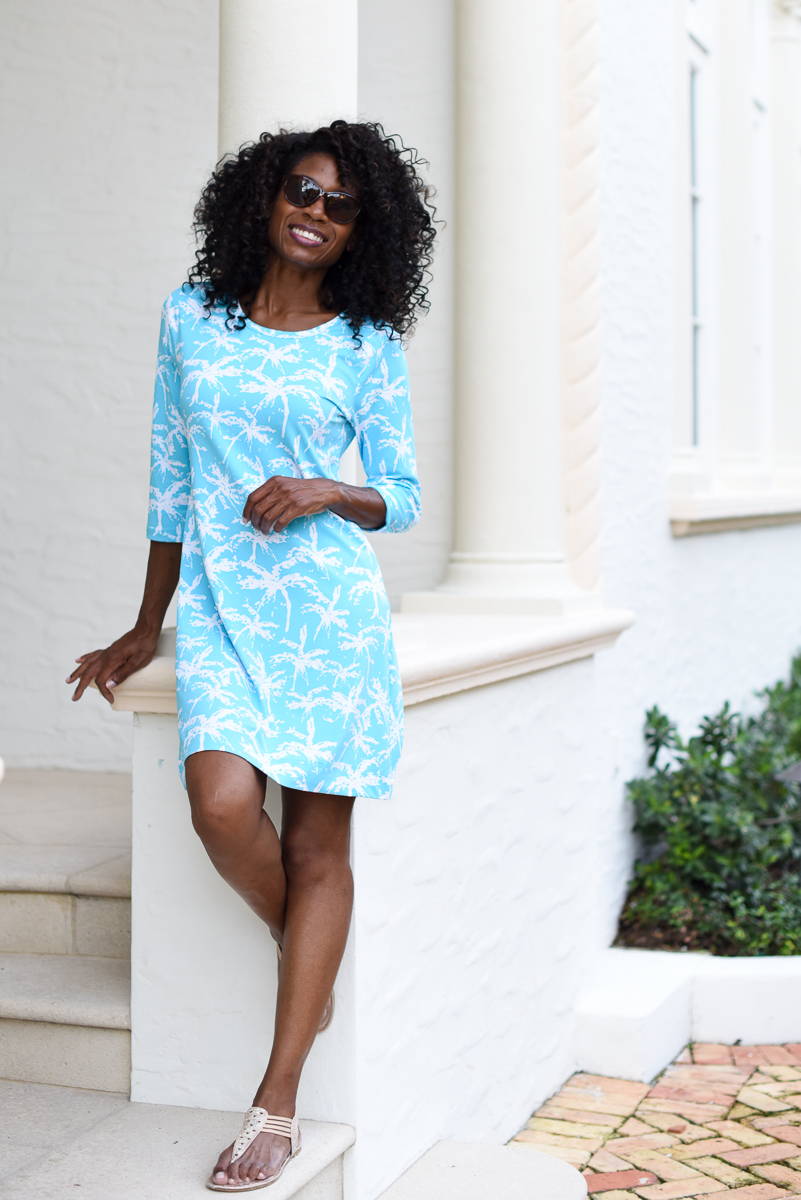 Maybe we're biased, but we think that nobody does dresses better than Anthony's Resort Wear and this gorgeous frock proves it. Sketched white palms stand out against a dreamy aqua background on this travel dress, so named because it is ideal for travel due to its wrinkle-resistance and superior UPF50+ sun protection. With this dress, you can just throw it in your bag and go!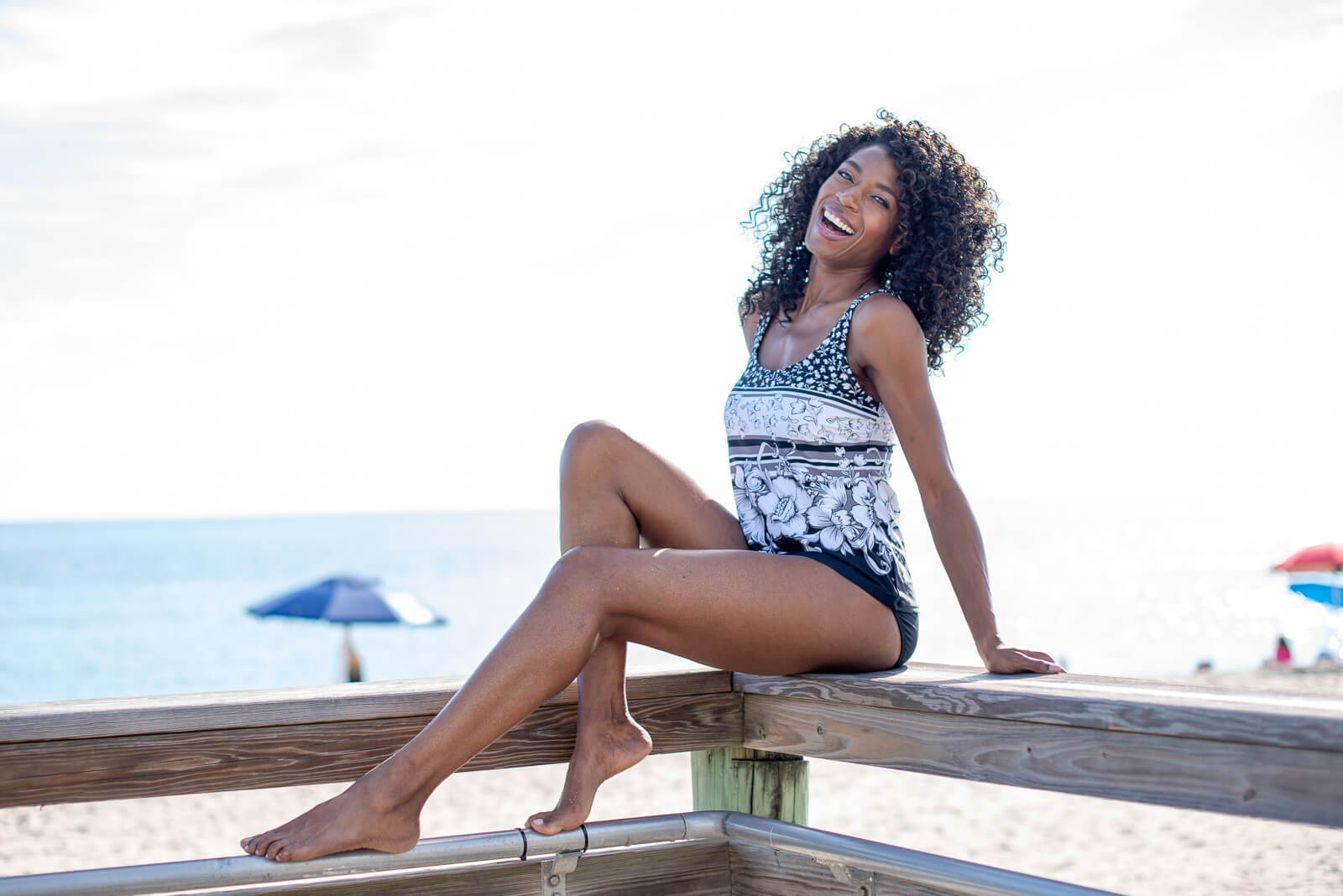 A monchromatic floral print sets this tankini top by Beach House apart. This rosy-patterned swim top is ideal if you want a bold look without bright colors and it looks great when coordinated with a black swim bottom for a fantastic beach-ready getup.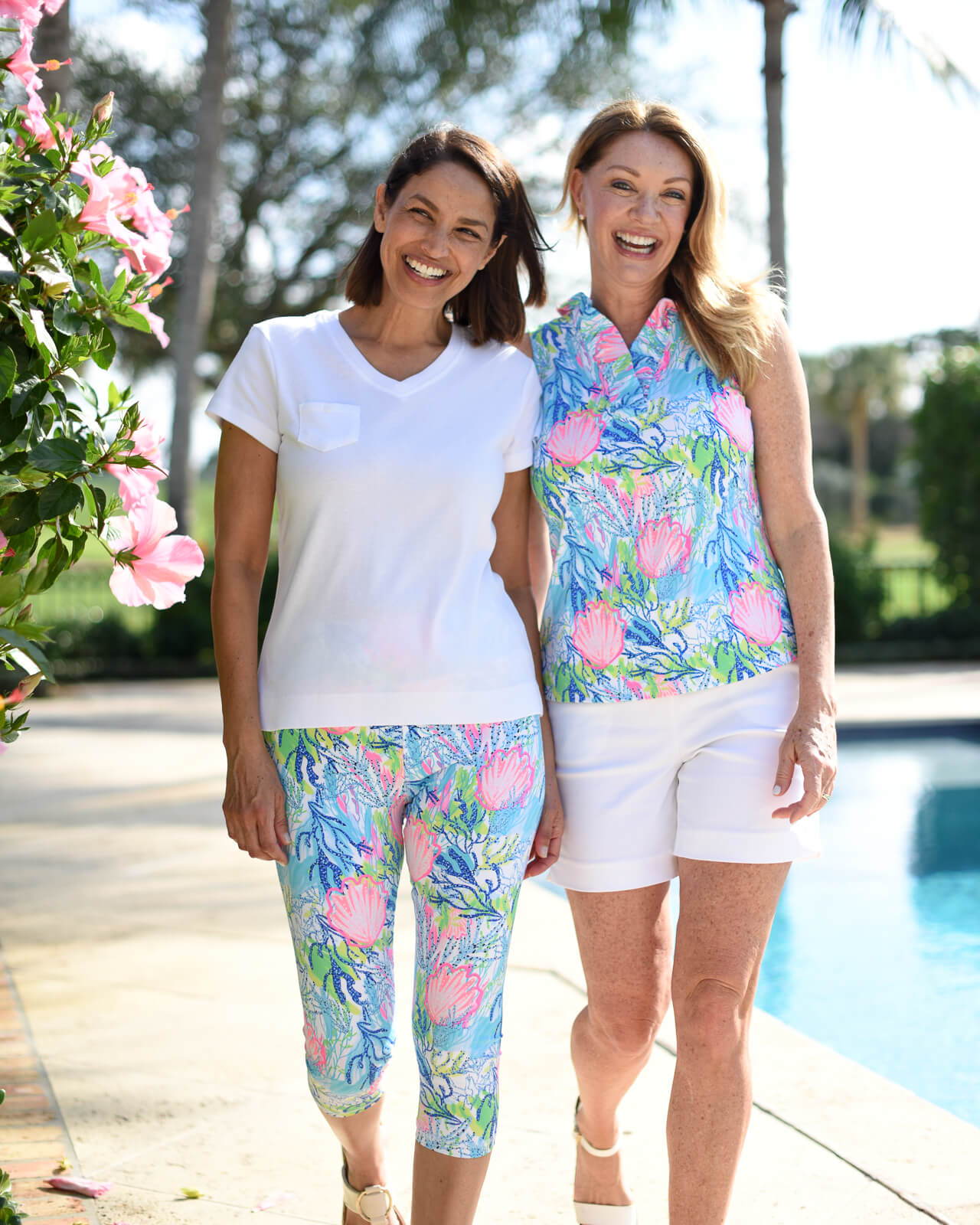 The "Underwater Jungle" print shown here on a capri-length legging and a ruffled sleeveless top is artfully designed by Anthony's Resort Wear for a vivid, fashion-forward look. This seaworthy pattern is dotted with seashells and is printed on durable UPF50+ sun protection fabric. Match these pieces with white separates, like a pocketed tee or a pull-on short, to round out a stunning weekend outfit.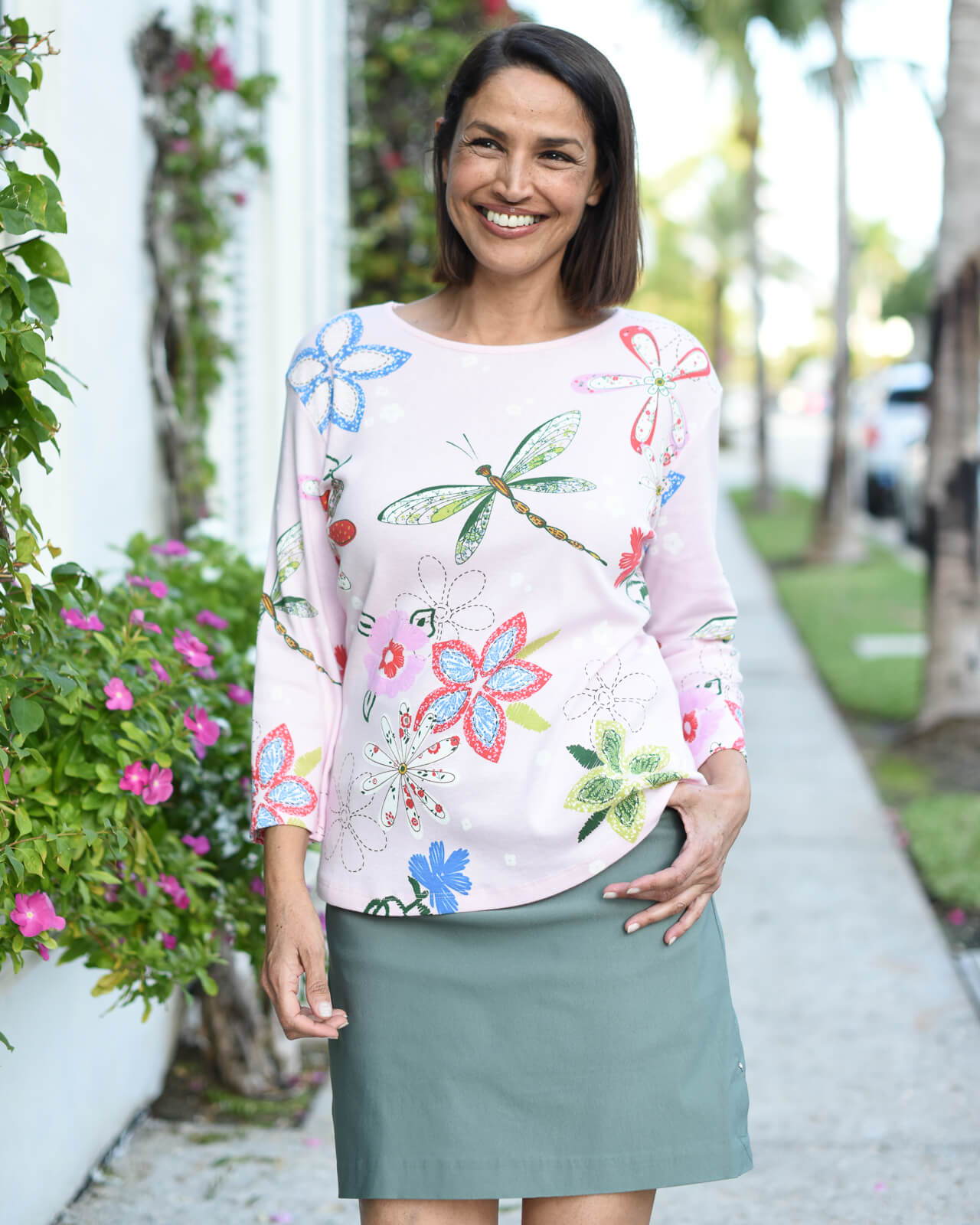 Good times are here to stay with this pretty pink Jess and Jane top. Made from 100% cotton and printed with an array of flowers and dragonflies, this knit top invokes spring no matter which season you wear it in. Coordinated with a cactus-colored, gem-embellished skort by Coconut Row, you'll be primed for a long walk in the park.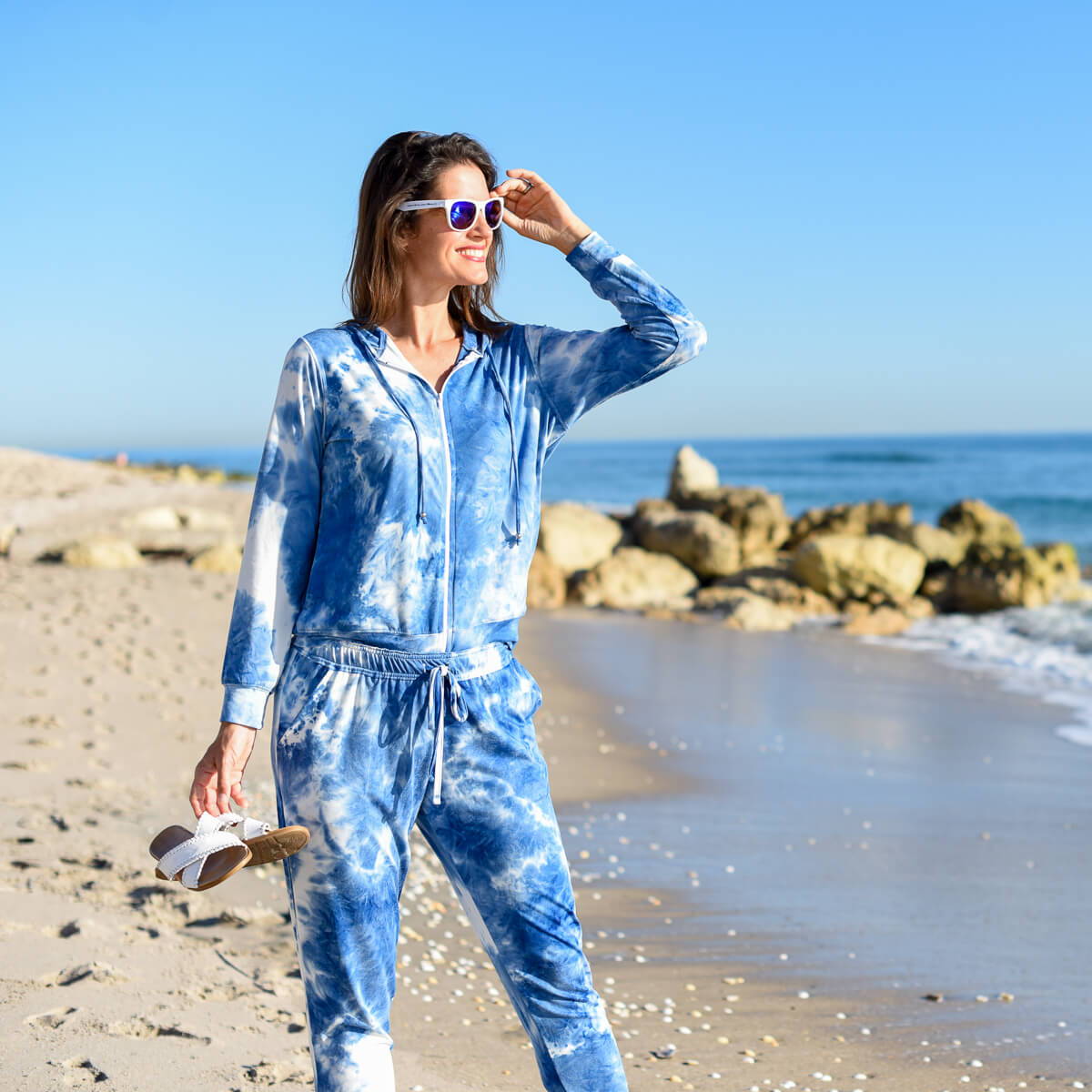 With a tie-dye pattern reminiscent of a cloudy blue sky, these two J. Valdi pieces are a match made in heaven! The top is a comfy zippered hoodie and the coordinating bottoms are pull-on joggers with an adjustable drawstring waistline. This ensemble is great for wearing over your bathing suit or as an all-day lounge outfit.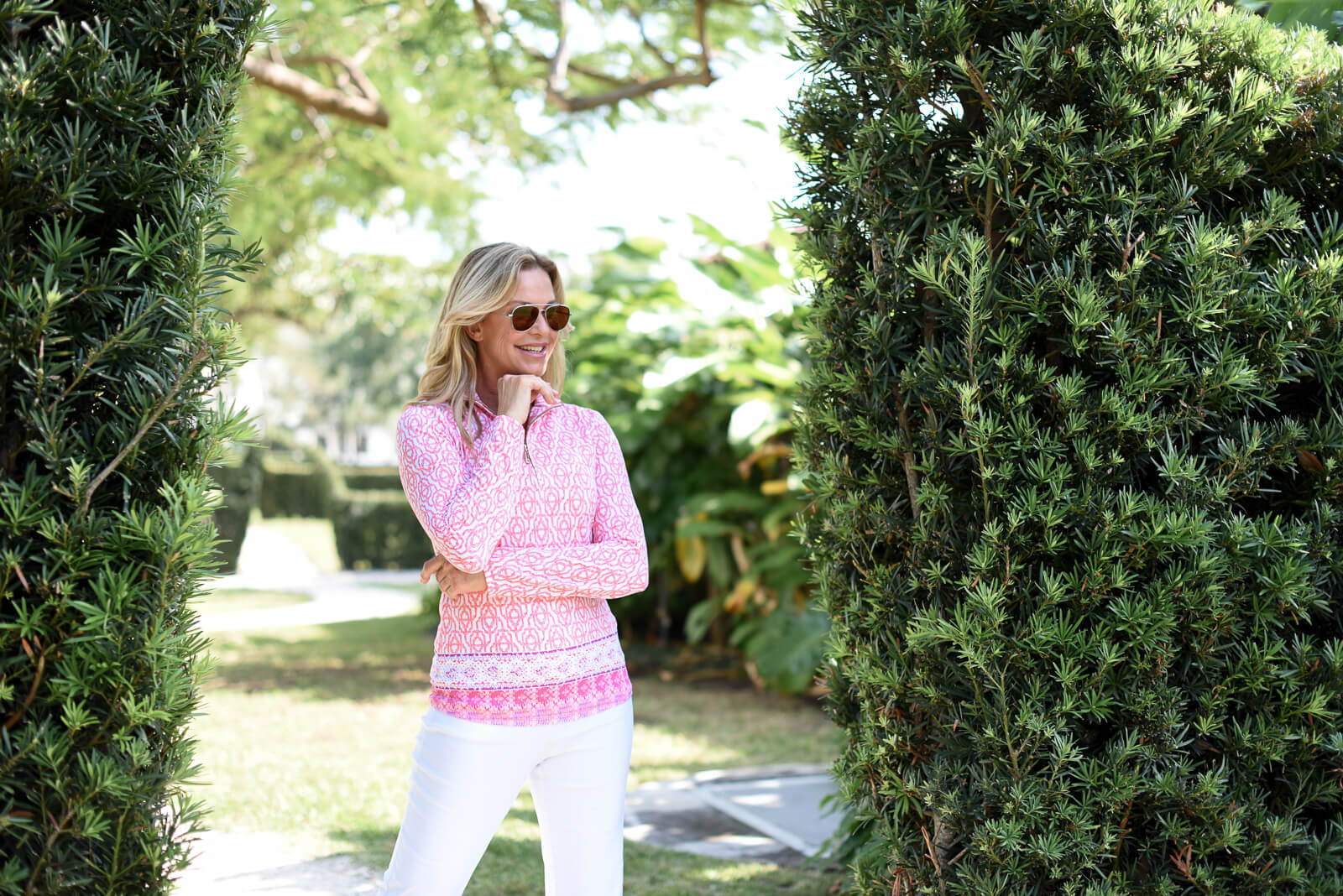 In delicious pinks and corals, the lattice print on this chic Cabana Life sun shirt is inspired by the vineyards of Napa Valley. This fabulous knit top is a delightful match with some crisp pull-on white ankle pants, or you can wear this sun shirt as a stylish UPF50+ rash guard with your favorite bathing suit bottoms.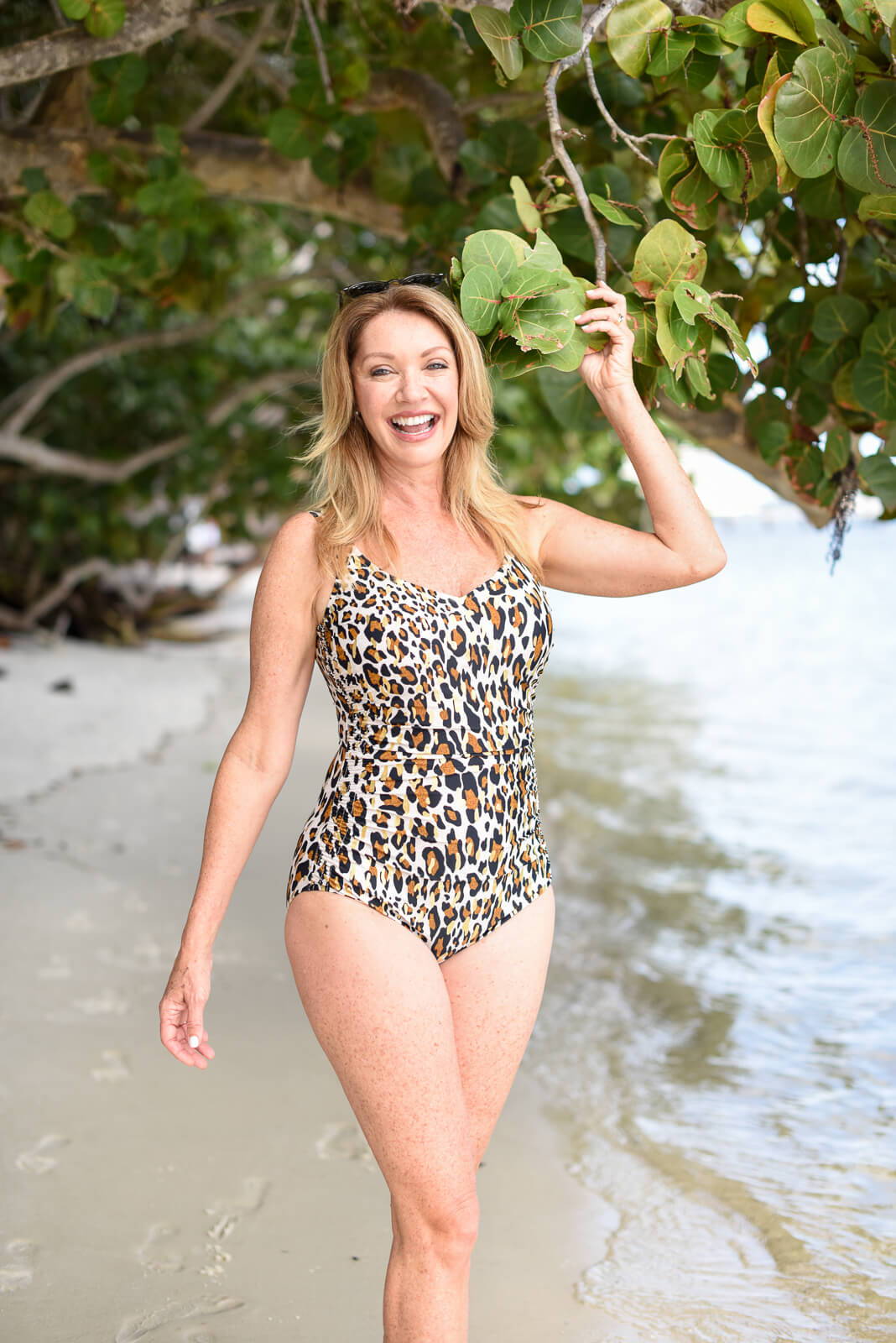 You'll feel like you're in the Gilded Age with this gold foiled bathing suit by Maxine. This shirred one-piece swim suit has a stylish leopard pattern and a flattering V-neckline. Happy splashing!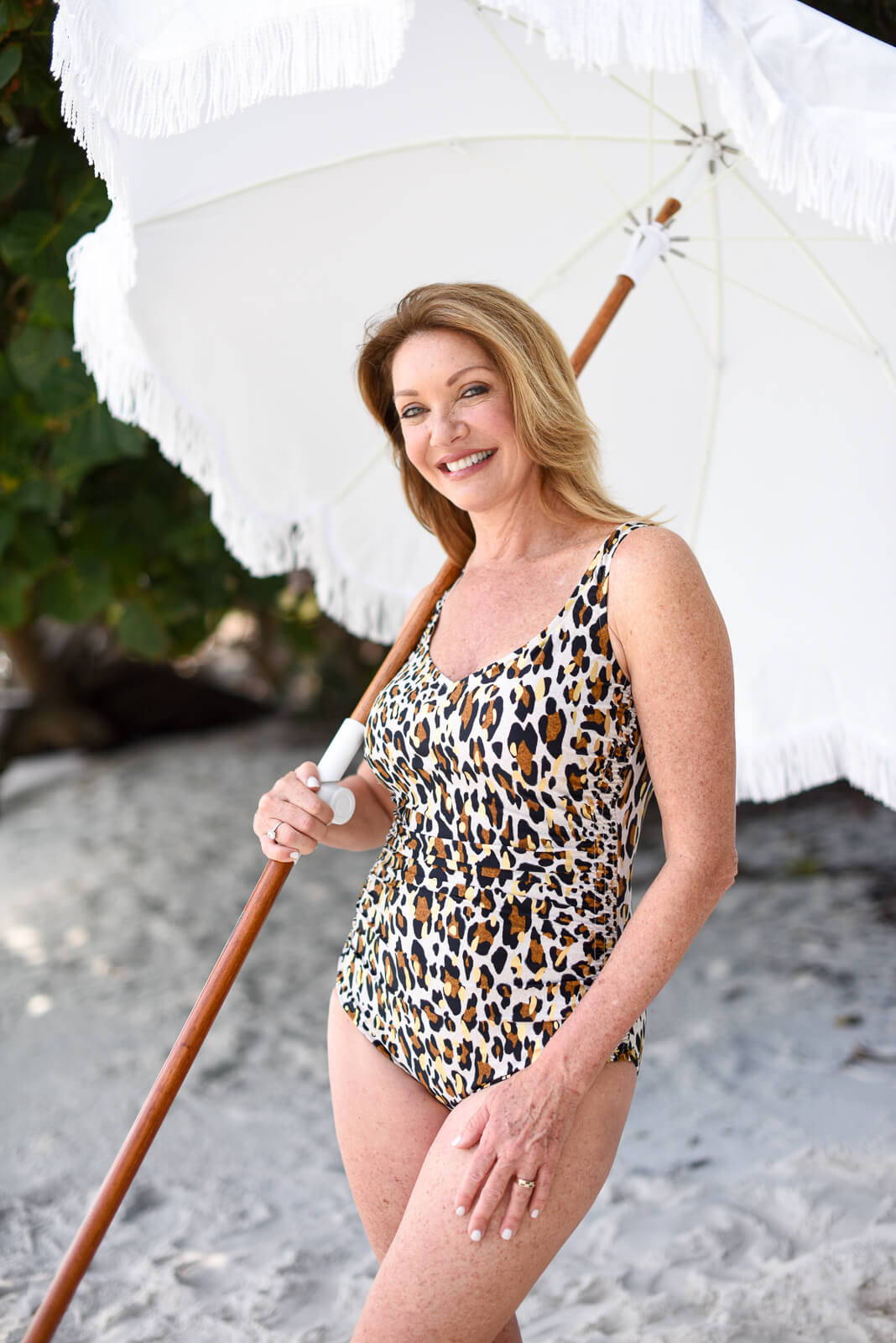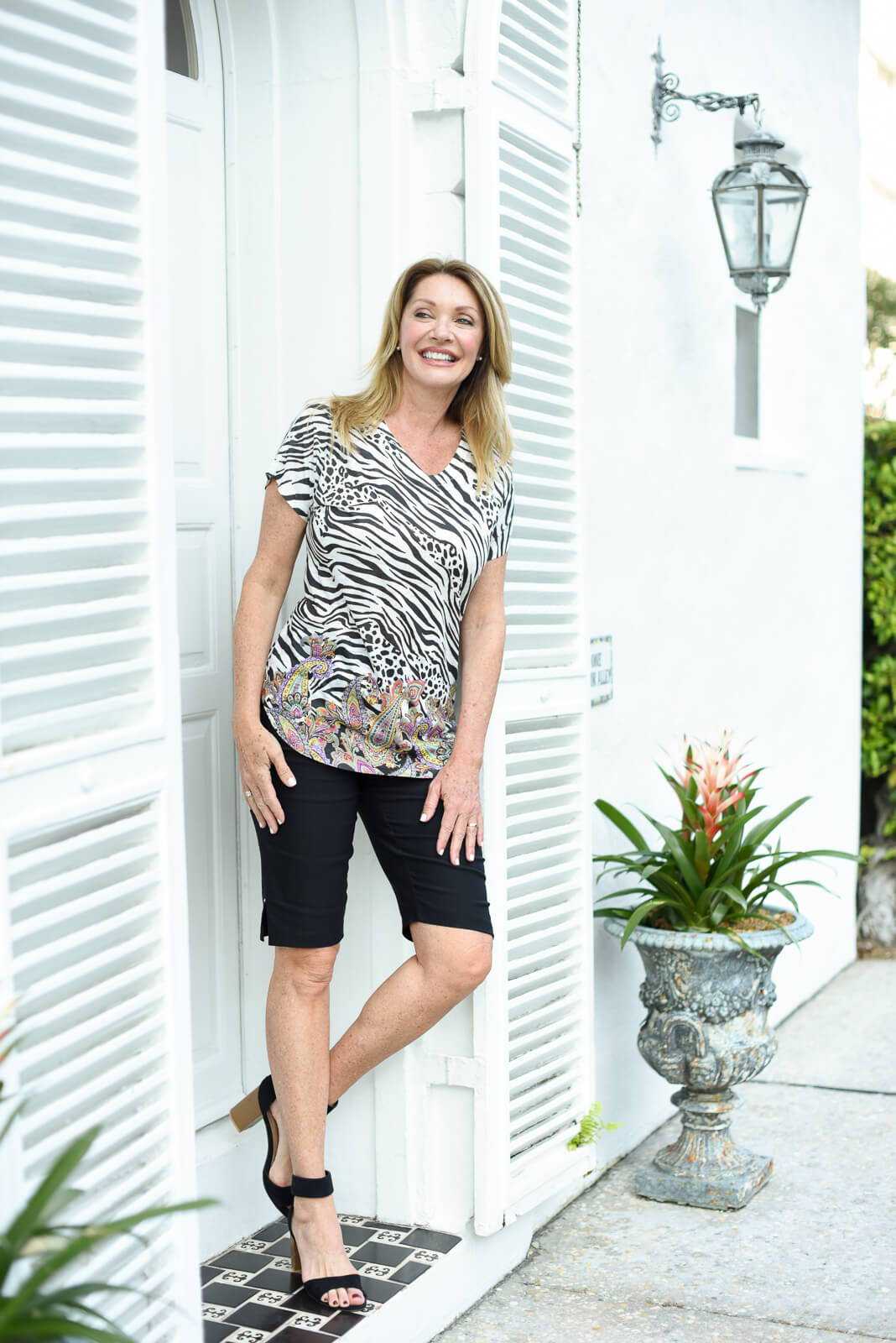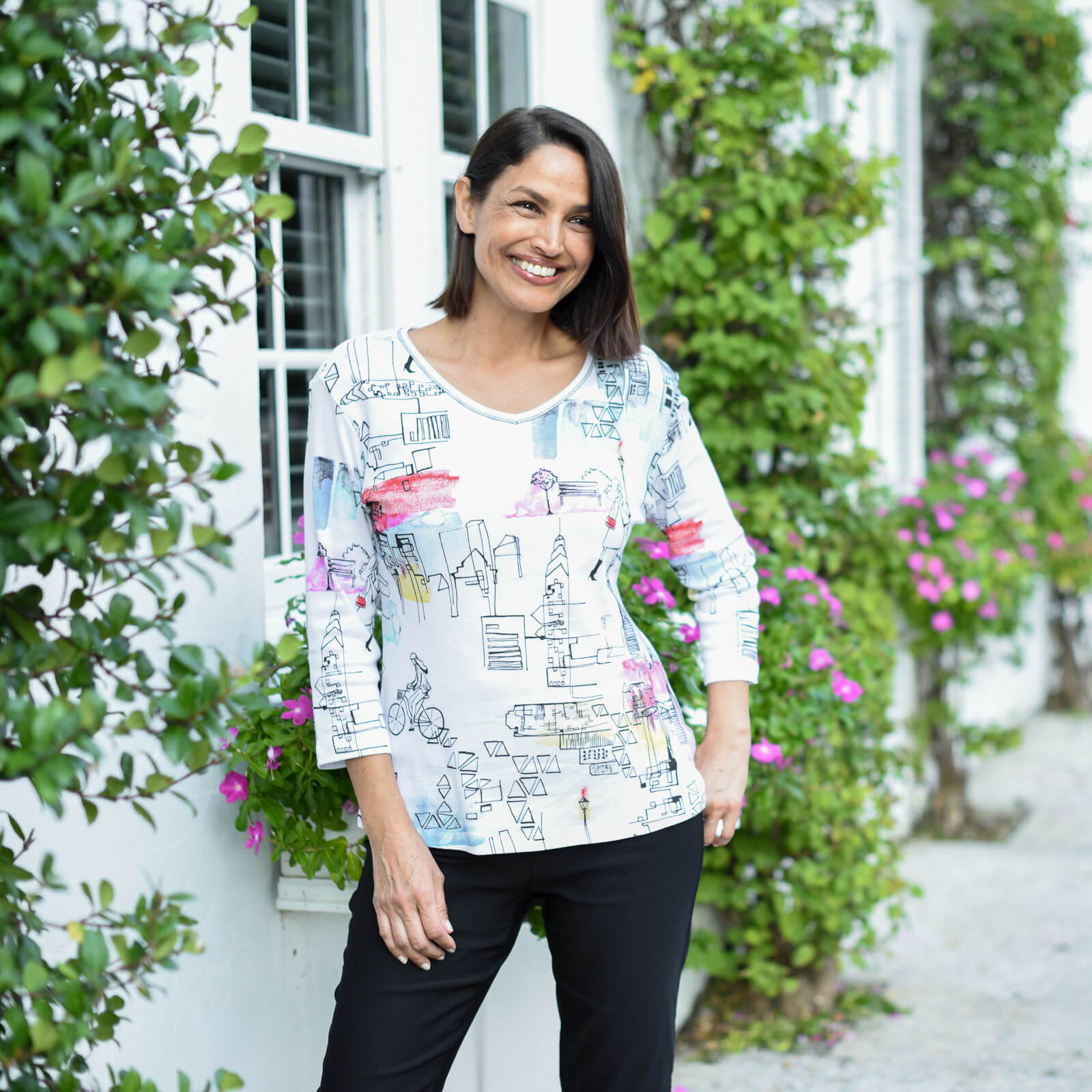 Feel fashion-forward in Jess and Jane with these dazzling tops! Their intricate patterns are always a feast for the eyes. Whether you're into a more exotic, animal-inspired print or a bustling city scene, Jess and Jane has something for you.
The wild zebra stripes and leopard spots of the short sleeved knit top compliment the brightly-colored paisley trim perfectly, while the gem-accented bermuda shorts round out the look. Add some strappy heeled sandals and you've got a charming ensemble.
With watercolor brushstrokes and a skyscraper pattern, the 3/4 sleeved top can help invoke a New York state of mind. To finish off this sleek look, simply match the 100% cotton top with a black pull-on ankle pant for a chic ensemble worthy of the Big Apple.
Whether you are playing a round of golf or just spending some time outdoors, this paisley-patterned IBKUL sun shirt is a winner! This top offers superior protection from both UVA and UVB rays and has IceFil fabric that wicks away moisture to keep you cool and comfortable. Make it a complete, chic ensemble alongside a white Zac and Rachel pull-on pant. Fore!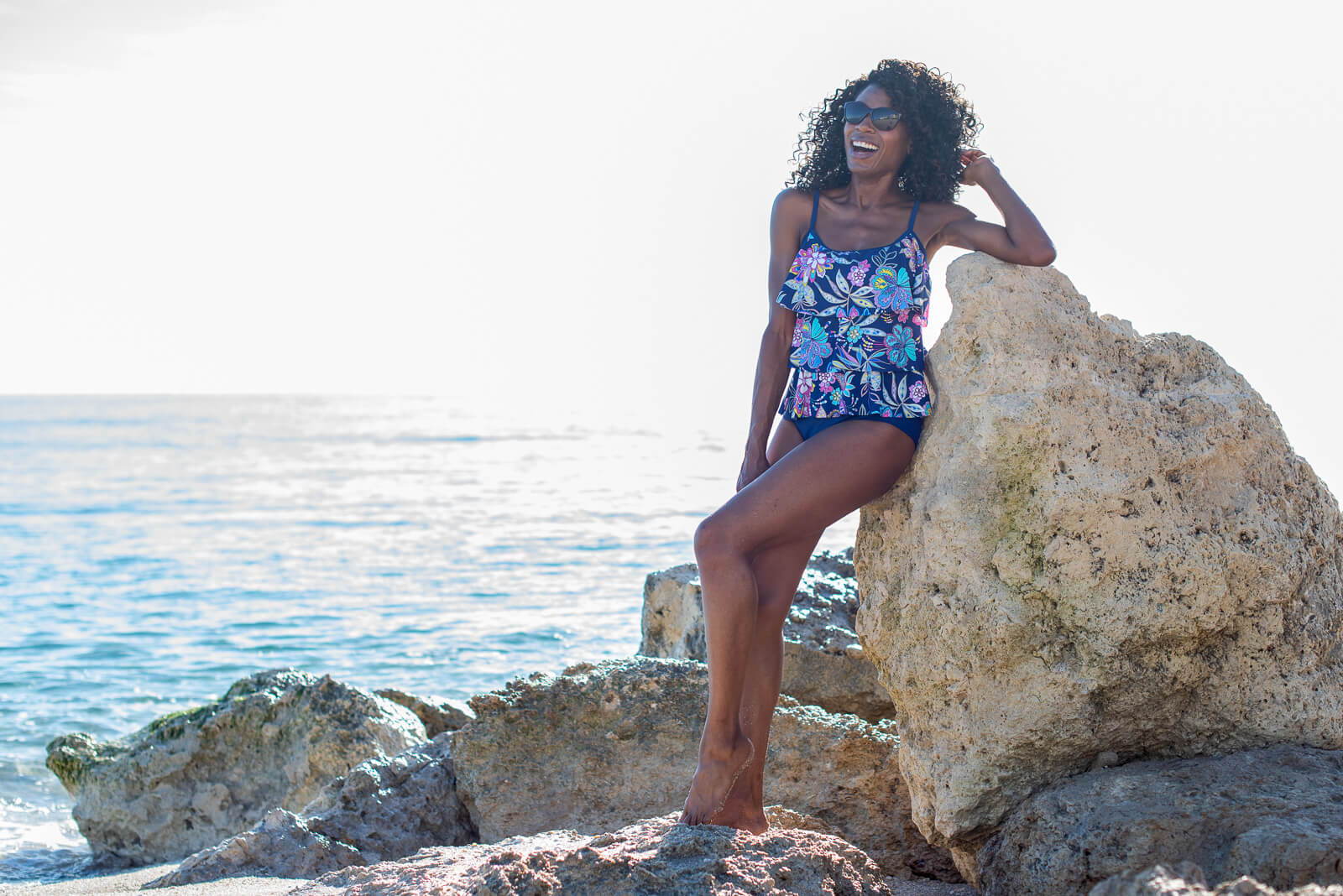 Three tiers of foil-embellished floral fabric decorate this feminine Maxine tankini top, and the glimmering golden accents play wonderfully with the navy blue background. This flowery swim top looks fab with any matching navy bottoms and your favorite pair of sunglasses. Prepare to shine!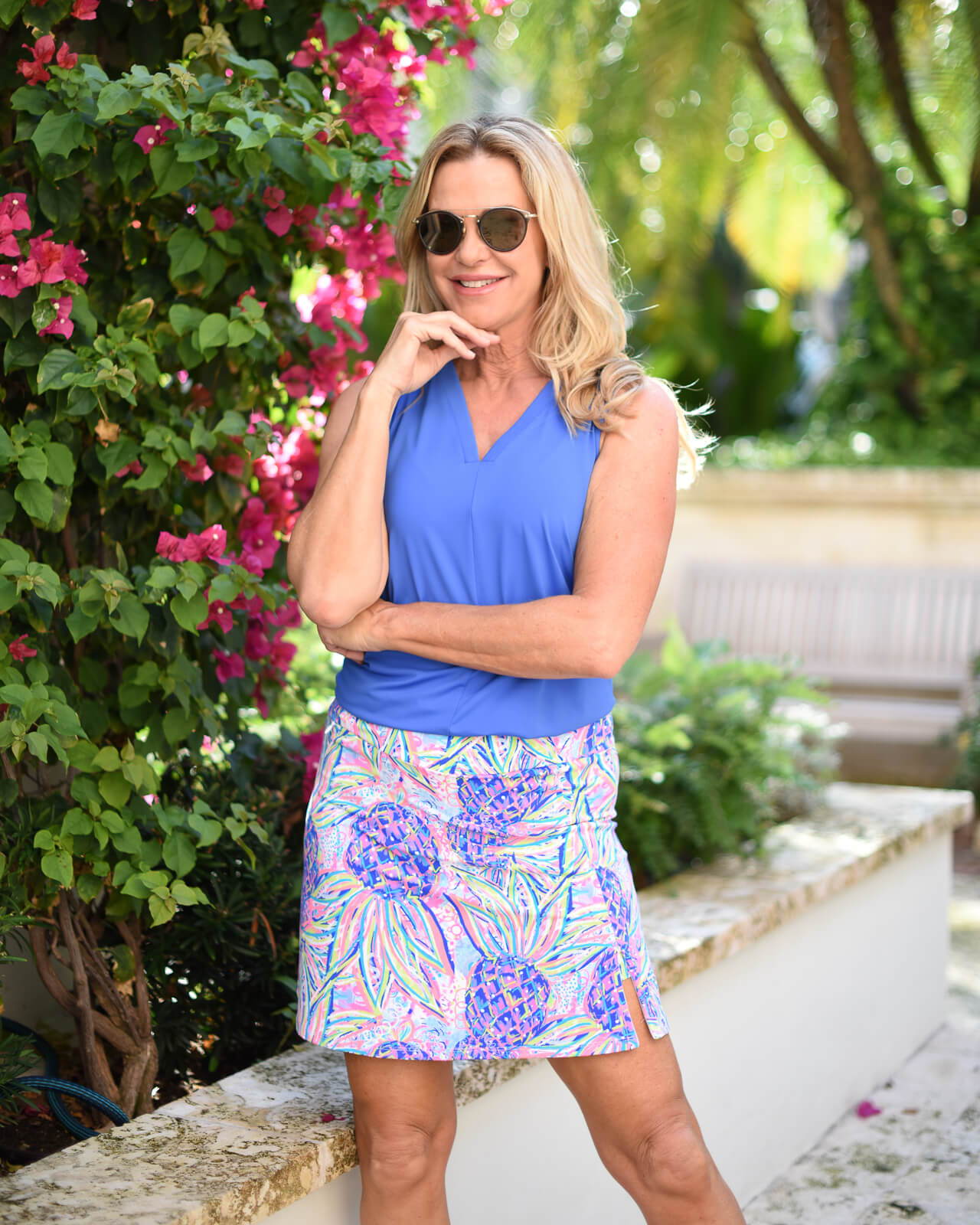 You won't be able to get enough of Anthony's Resort Wear's specialty UV-resistant fabric, though luckily for you, it is available in an astounding array of color, prints, and styles. Take this outfit for example: a smart sleeveless top in a soothing periwinkle shade is offset by a party-worthy pineapple skort. Both of these separates have UPF50+ technology woven into the material, which also boasts mositure-wicking and wrinkle-resistant qualities. This ensures that you can play all day in the afternoon sun without sacrificing comfort or style.
High-necked swim suit styles are extremely flattering so we can't help but love the silhouette on this one-piece by Longitude. However, it is not just the cut of this bathing suit that makes it so special- it is also the brilliantly colored coral reef design that will turn heads and have you feeling like a goddess.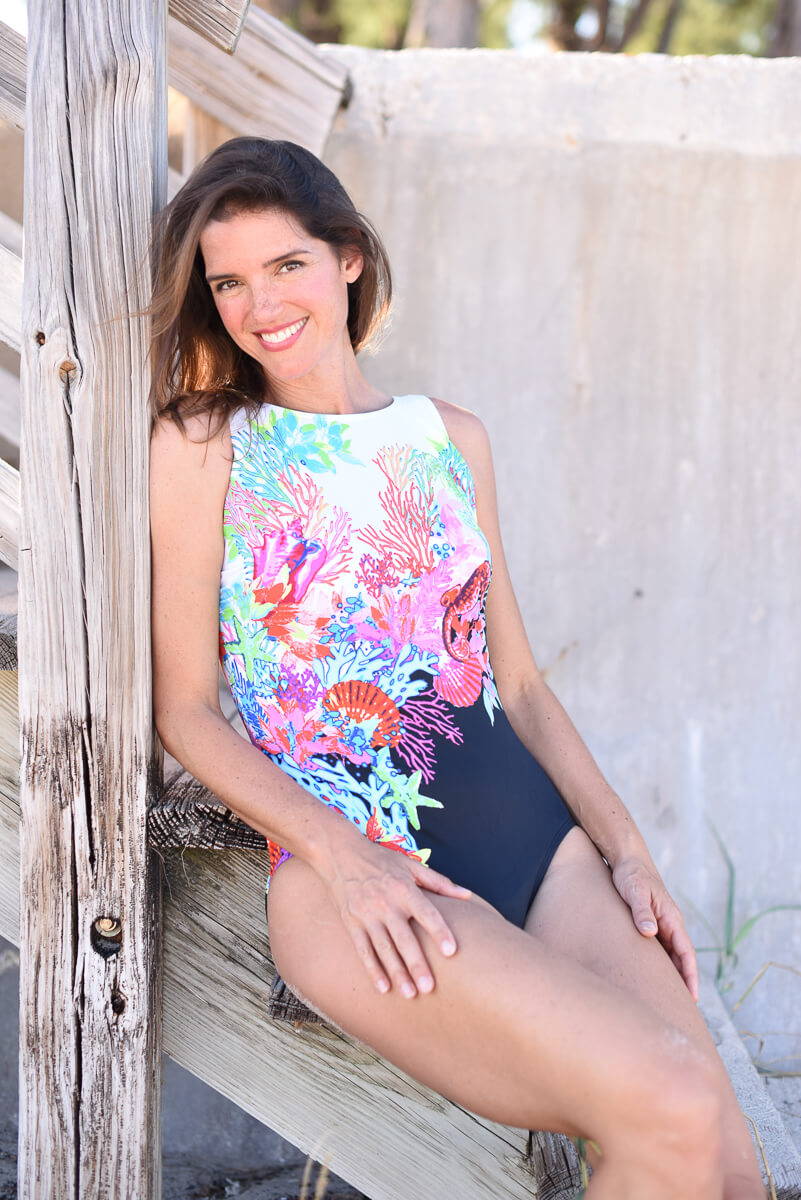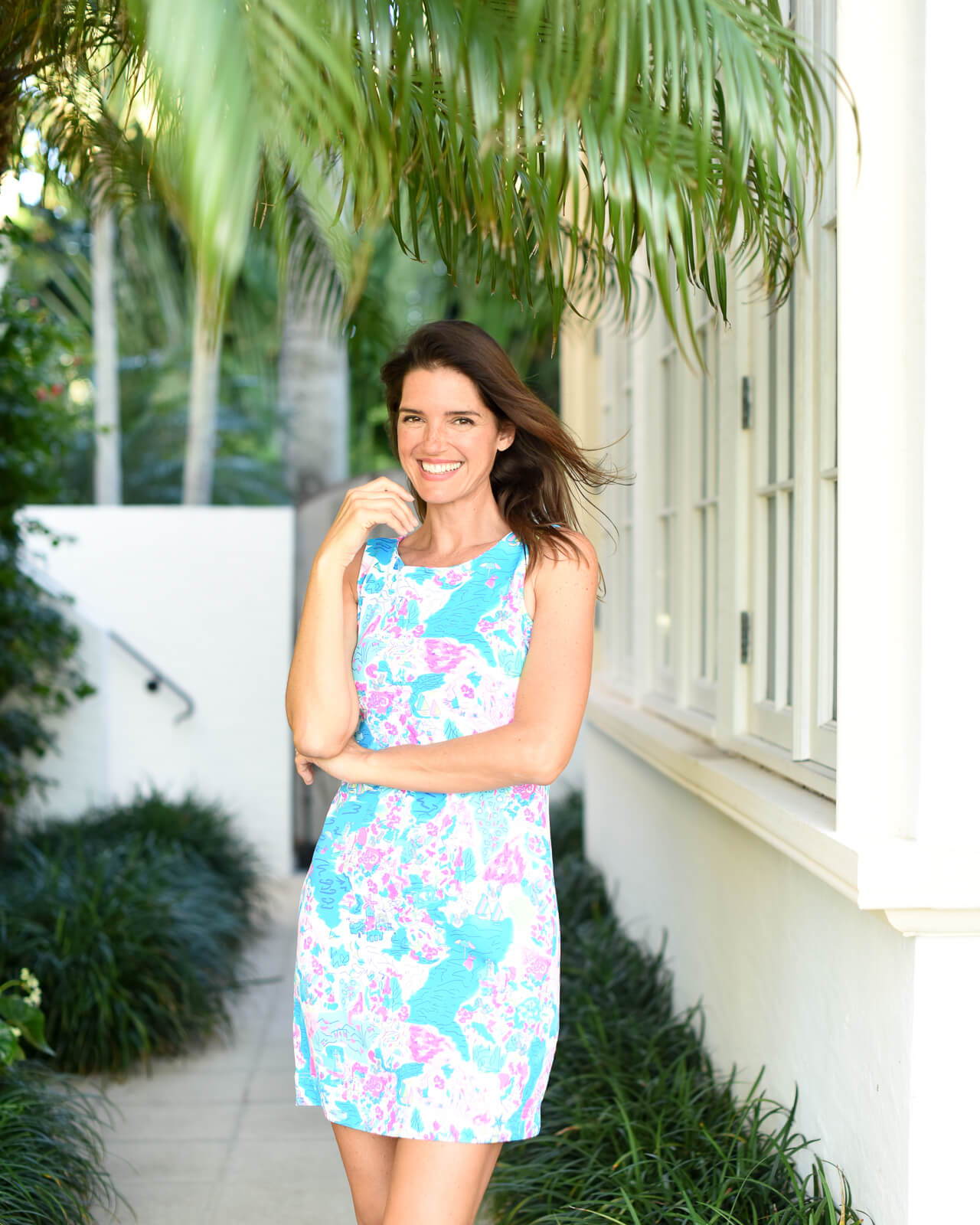 Look forward to your next getaway with this pretty shift dress by Anthony's Resort Wear. Awash in an ocean of turquoise and fuchsia, this sleeveless dress displays a vibrant tropical locale. A wedge sandal is all that's needed to complete a beautiful resort-ready look.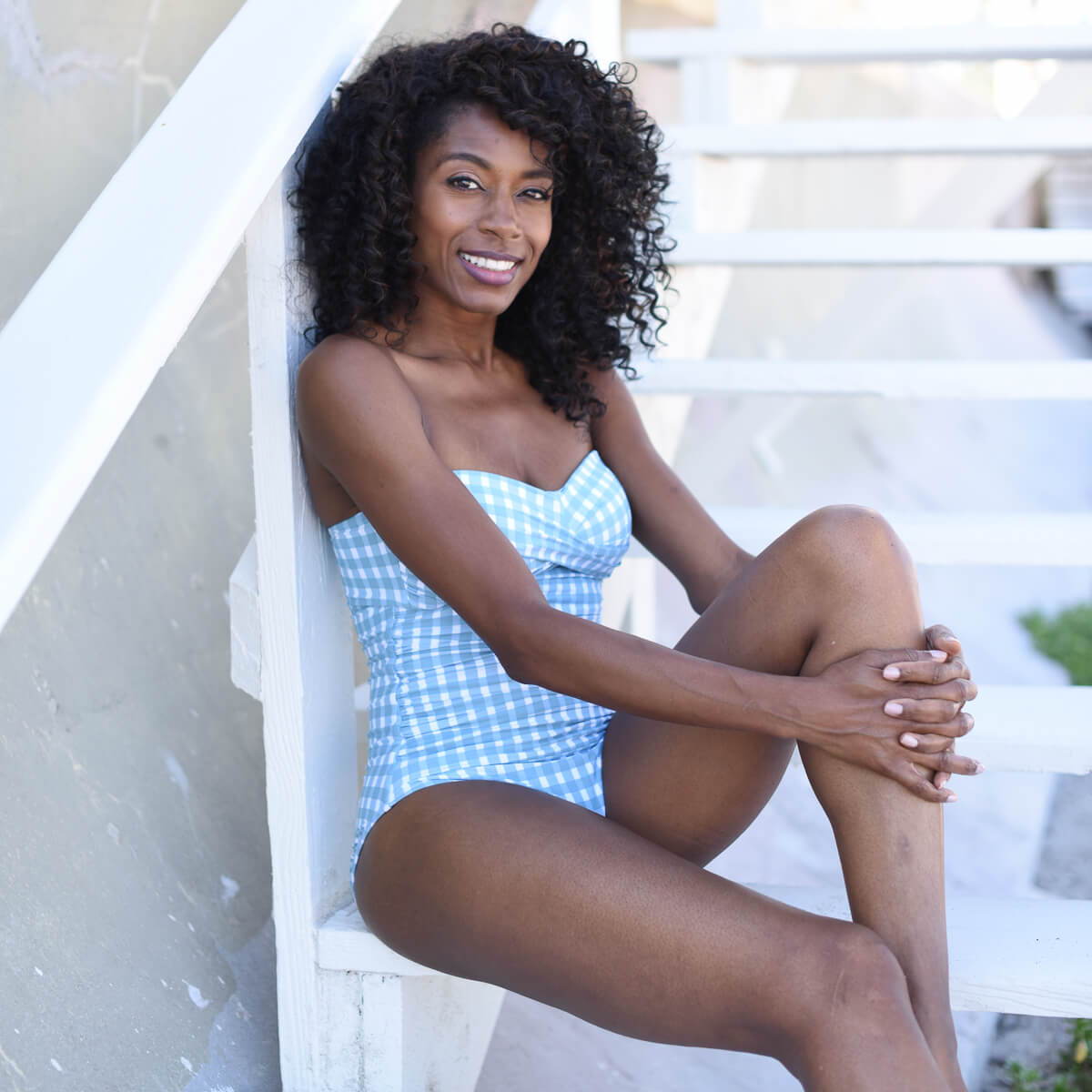 Cool blue geometric designs on swimwear? Yes, please! Whether you go for a one-piece or a swimskirt paired with a tankini top, you'll love taking a dip in these bathing beauties.
On the left, we have a cute gingham-printed bandeau swimsuit by Anne Cole. This one-piece has a cute twisted bustline and flattering side-body shirring for a sleek silhouette.
On the right, the Beach House tankini top adds some flowers into the mix, which look fabulous when worn with the diamond grid design of the swim skort. This feminine pairing includes ruffles and a charming floral design on the top and a full-coverage skirted bottom for a lovely look.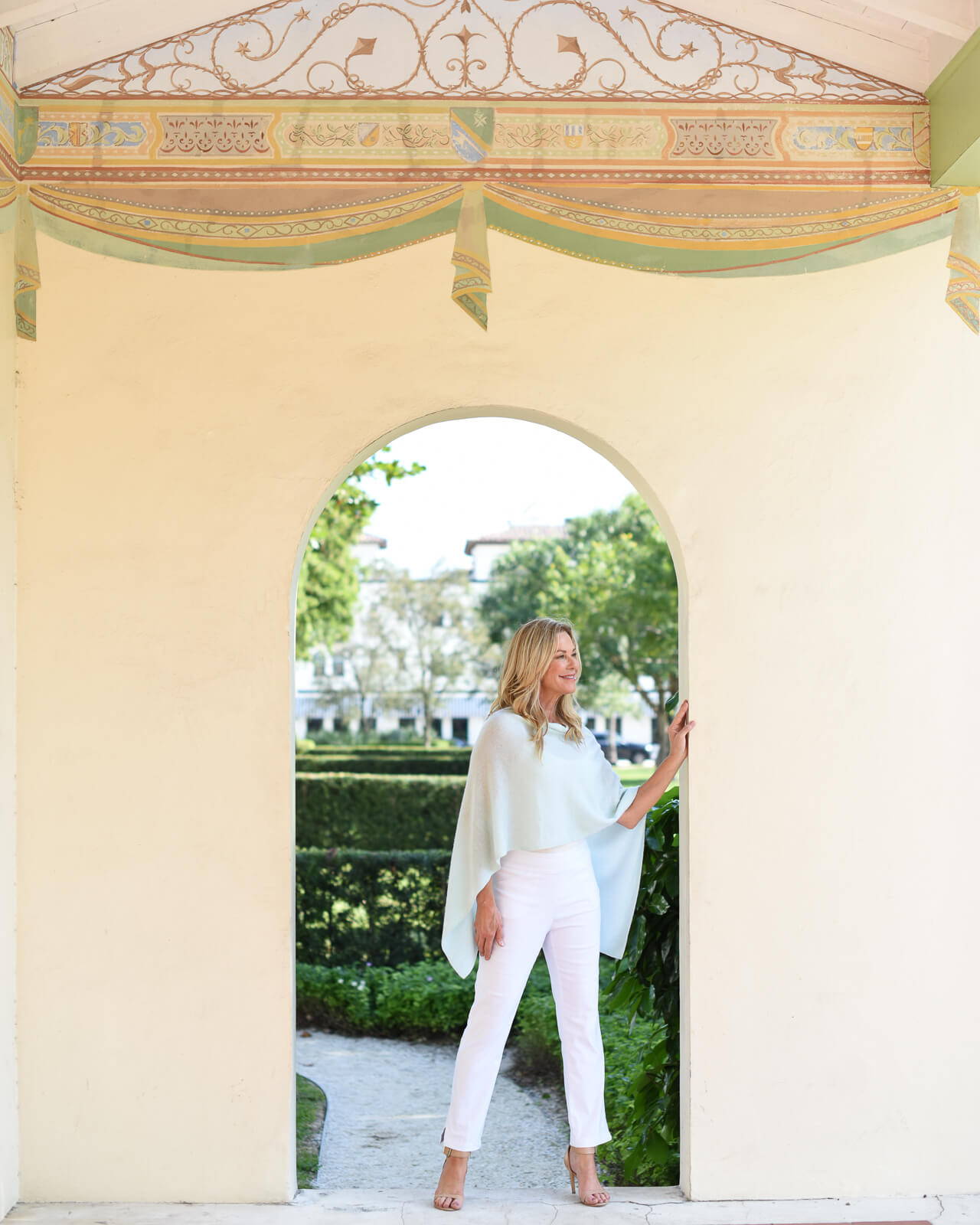 Chilly days are still ahead of us, so why not drape yourself in luxe cashmere to keep warm. This dress topper by Oli and Sofia is great when worn over dresses (of course!), but it also looks gorgeous when paired with a simple blouse and a Coconut Row ankle pant. Available in a range of brights and neutrals, this buttery-soft shawl will see you through, from winter to spring.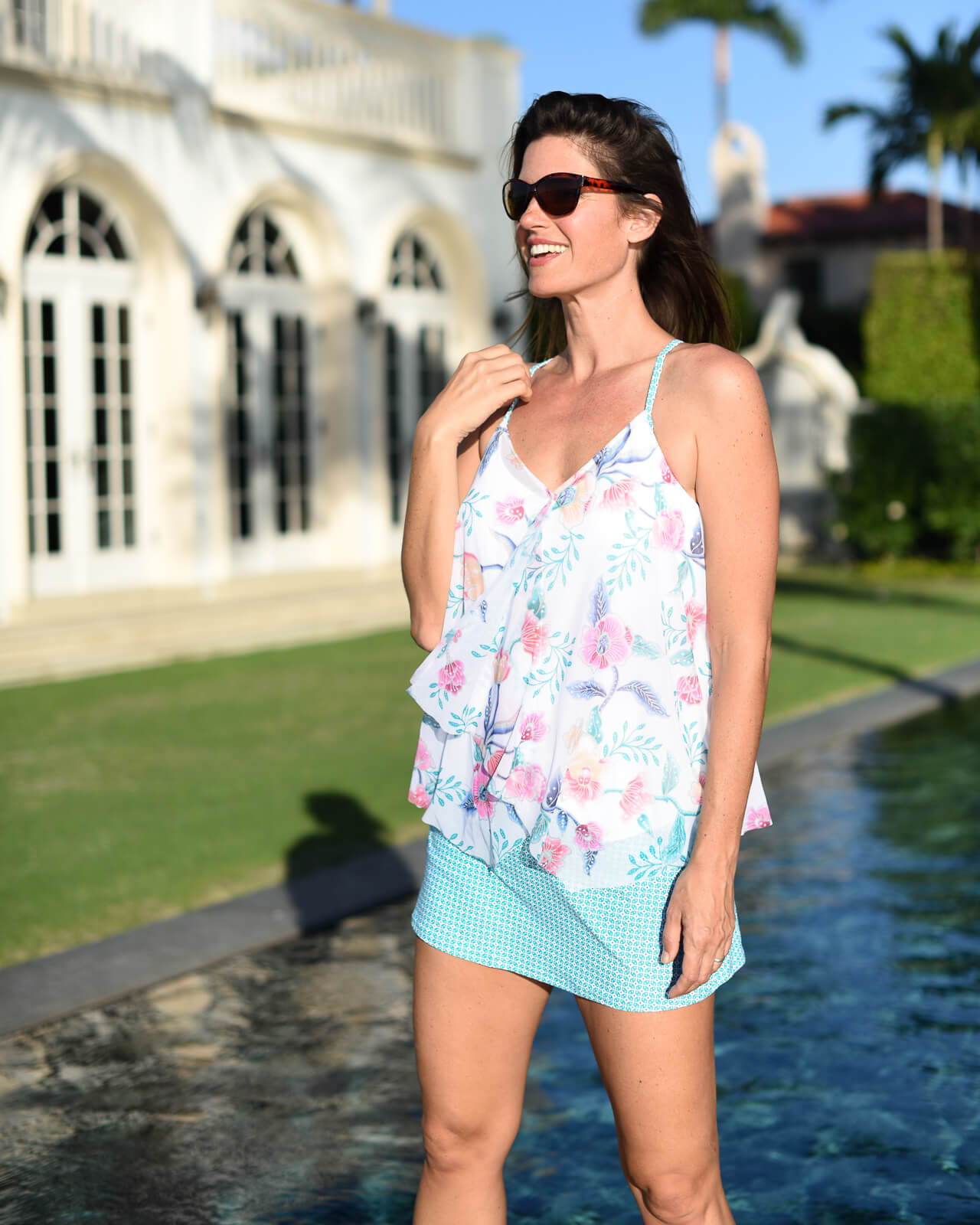 Airy mesh floats down this Beach House tankini top which is punctuated with blossoming flowers. This draped swim top has racerback straps and a handkerchief hem for a look that is both sporty and sweet. Worn alongside a swim skort, you'll be living a floral fantasy.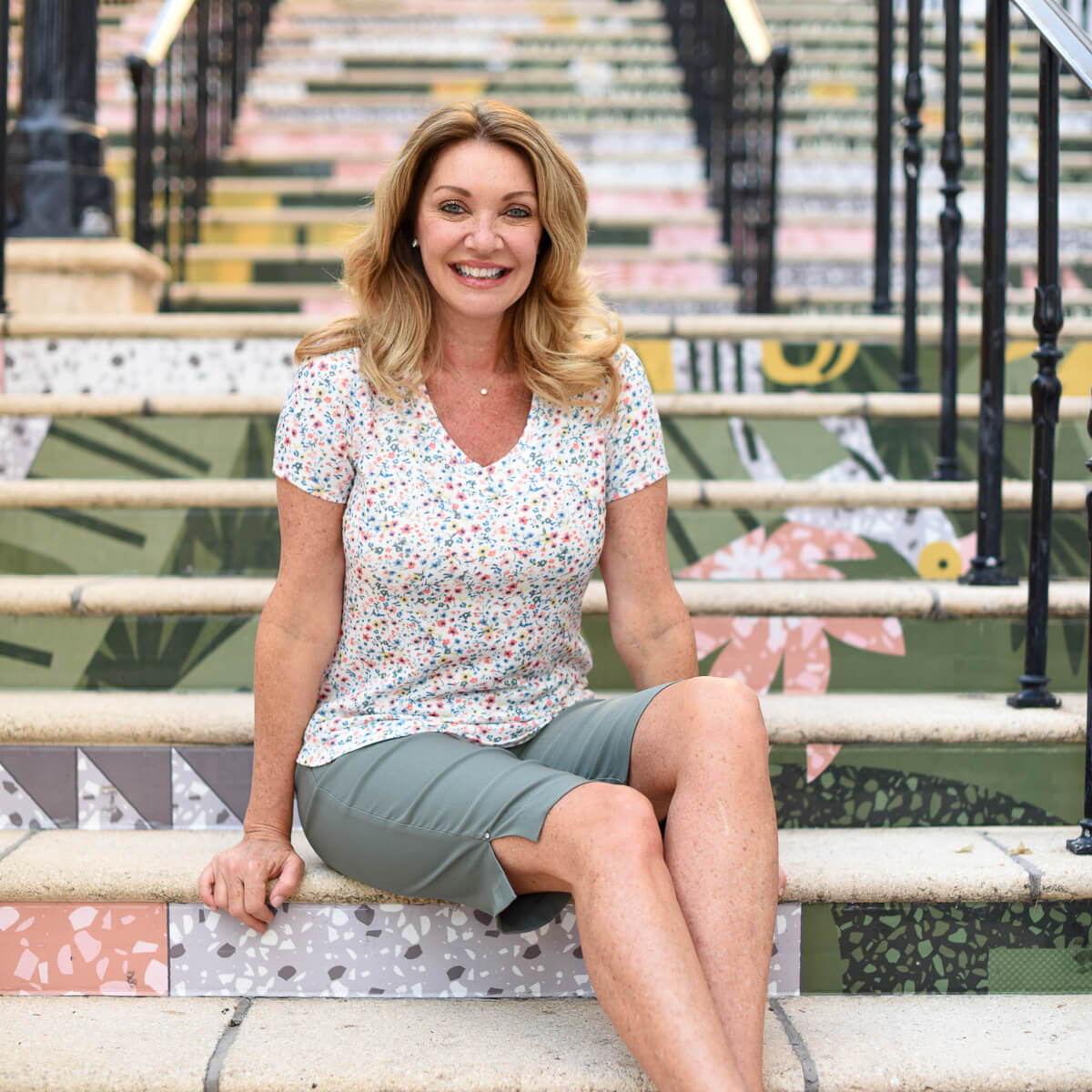 Tiny flowers are sprinkled across this v-neck Coconut Row tee for a effect reminiscent of a meadow in bloom. This top is a great choice to wear while exploring your local botanical gardens, especially when paired with a subtly jeweled Coconut Row pull-on bermuda short in the color cactus.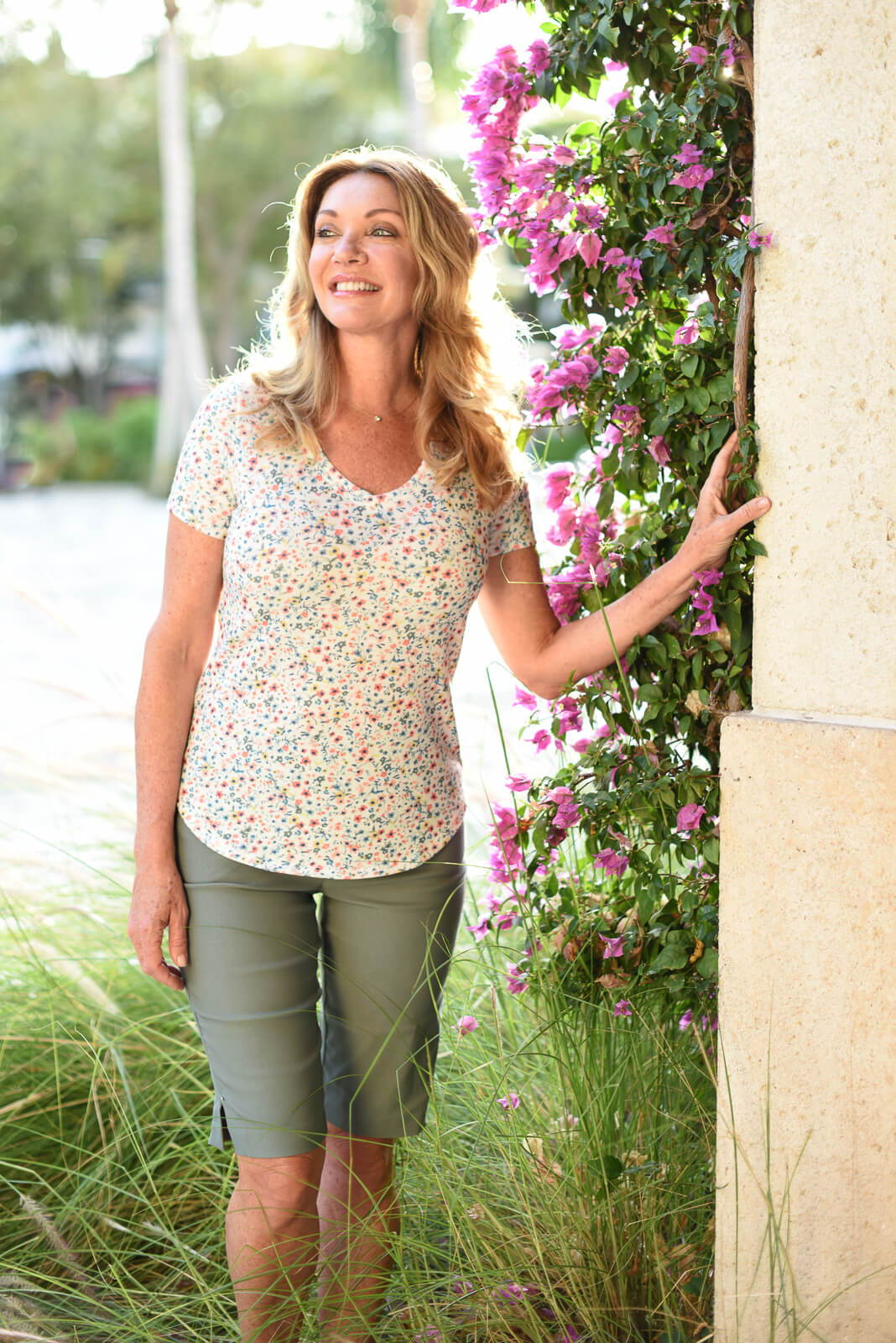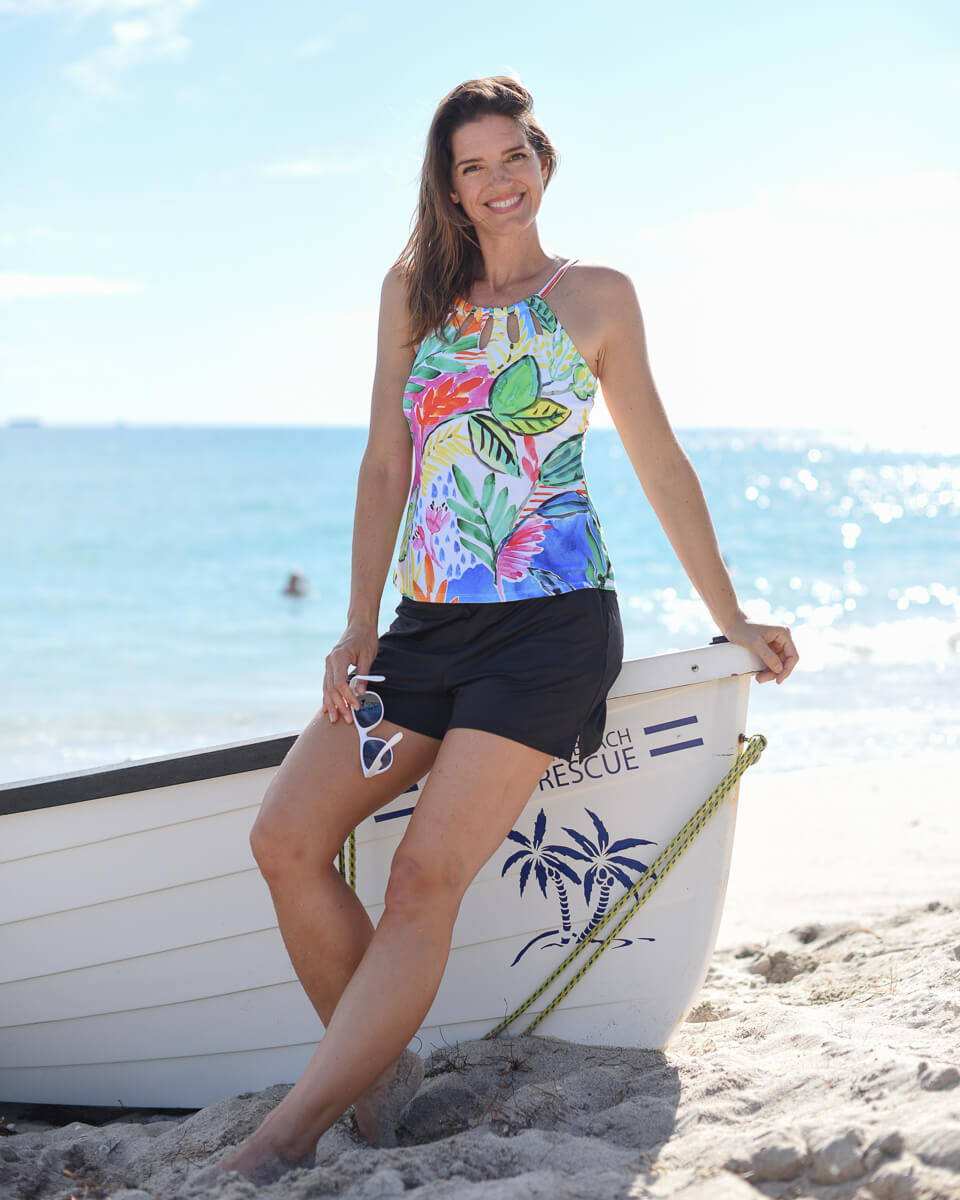 24th and Ocean is a fantastic swim brand that always delivers on punchy prints and unique silhouettes. Take this swim top for example: it has a lush jungle pattern in bold colors and fun cutouts on the neckline. Try it with a matching swim short and you'll be all set for an aquatic adventure!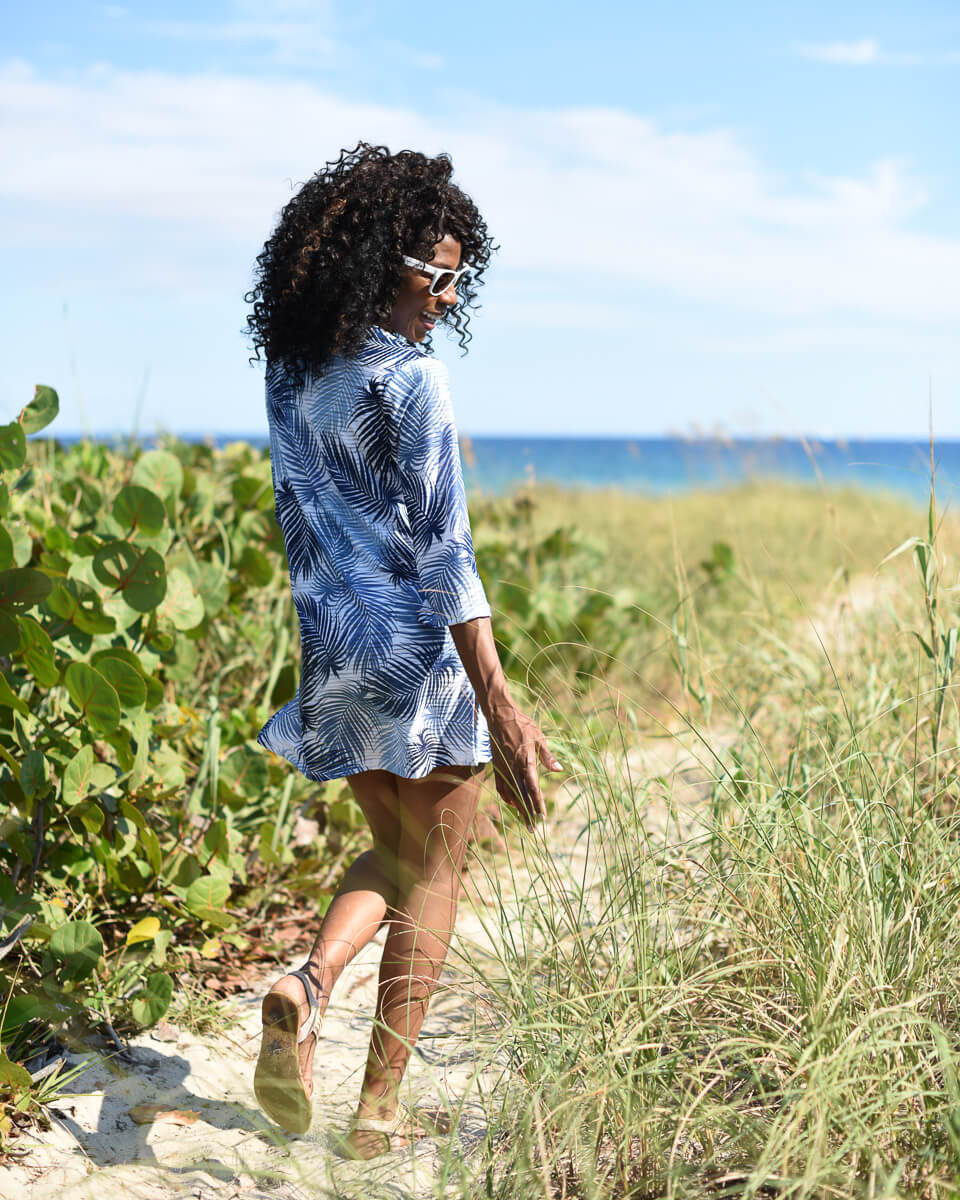 A swim cover-up should be easy, breezy, and cute, and this J. Valdi tunic checks all the boxes. This v-neck tunic has a palm leaf motif printed on lightweight sheer-striped fabric. All you'll need to complete a wonderful seaside outfit is your favorite bathing suit and a pair of strappy sandals.  
A triple-tiered silhouette and vividly-colored palm trees printed on UPF50+ fabric make this Anthony's Resort Wear dress both eye-catching and practical. It does wonders when worn with a strappy neutral-colored sandal, and if you catch a chill, you can always layer on a white linen jacket to keep warm while looking cool.