Stylish and Sun-Protected Memorial Day Outfits:
Color Guide + Clothing Ideas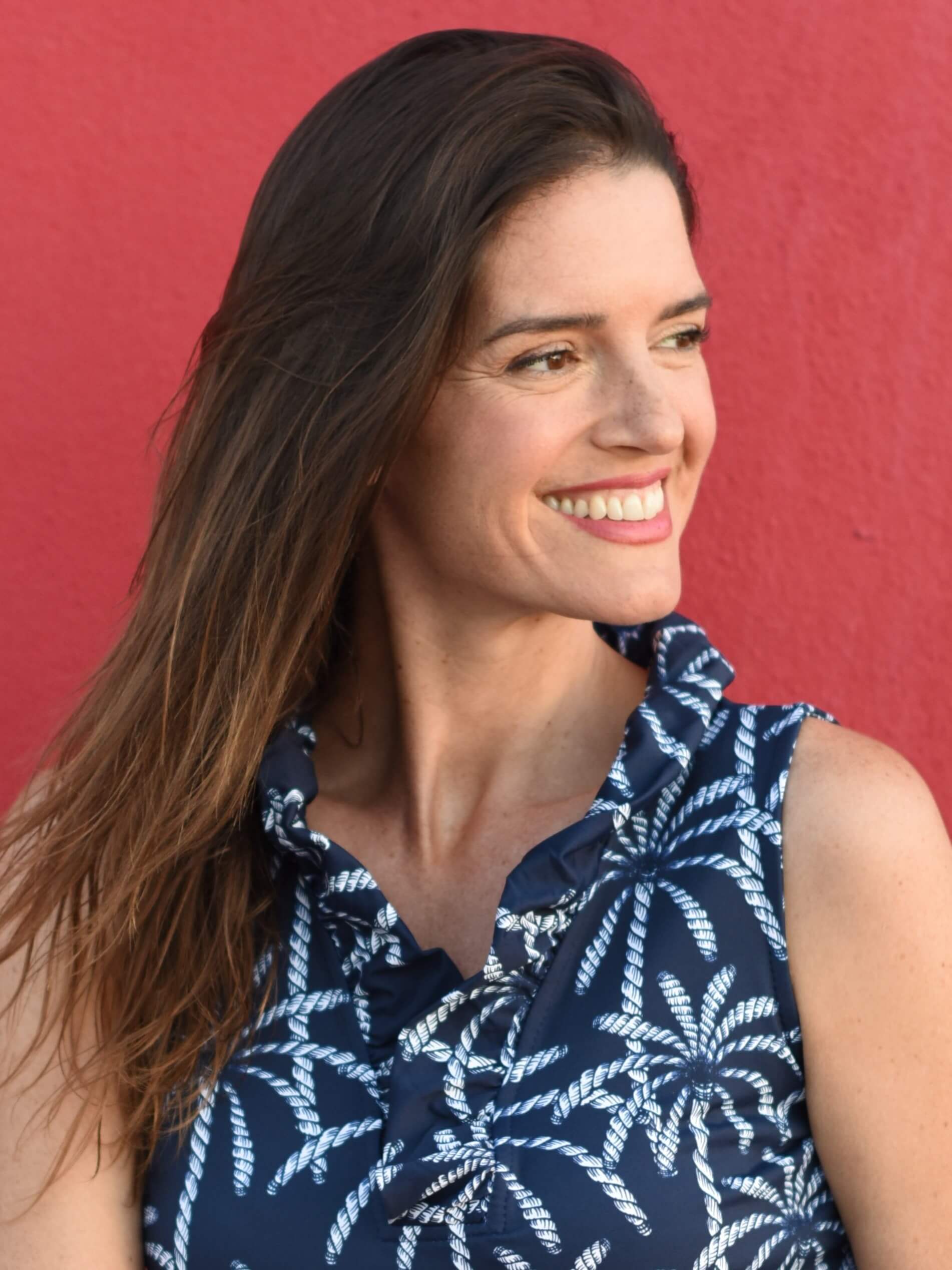 The grill is fired up, and the air is filled with the aroma of BBQs and hamburgers cooking. It can only mean one thing: Memorial Day! It's the best time to get together with loved ones, eat hearty meals, and, of course, flaunt your fashion sense.
Are you ready to relax in style this Memorial Day? Turn heads and feel confident all day long with some of Anthony's sun-protective Memorial Day outfits.
From casual beachwear to chic evening wear, let's keep your style on point while shielding you from the sun's rays. Learn styling tips and color ideas to honor the holiday with these fashionable ensembles.

What to Wear on Memorial Day?
Use these tips when planning or shopping for new outfits:
You can't go wrong with a sundress or a collared shirt with pants. Inspired by the American flag, wear a white outfit with blue and red accents for a subtle holiday flair.

Incorporate more pops of red, white, and blue into your getup. Some cute Memorial Day outfit accessories to consider are American flag pins, earrings, scarves, and bandanas.

Choose comfortable and appropriate footwear for the occasion, such as sandals for a beach event or sneakers for a parade.

Comfort is key, especially if you're attending outdoor events. Opt for sun-protective clothing with breathable fabrics to enjoy the festivities all day.

When in doubt, stick to the colors blue, white, and red. But if you're looking to mix things up a bit, other colors can also help you keep a proper Memorial Day look. Next we'll go over how to style and pull off different colors this holiday.
What Colors Do You Wear on Memorial Day?

Red, white, and blue—our national colors—are often associated with this holiday, but if want to branch out from this traditional palette, other stylish colors can still give a nod to the patriotic theme.
Neutral shades like beige, khaki, navy, and olive green can add depth and variety to your Memorial Day outfit. Utilize these colors instead of wearing plain all-white. You can also sport them as standalone pieces or mix them with the signature USA colors.
There's plenty of room to get creative this holiday. Whether you're joining a parade, hosting a backyard BBQ, or simply taking the day to lounge around, check out the following stylish women's Memorial Day outfits for inspiration.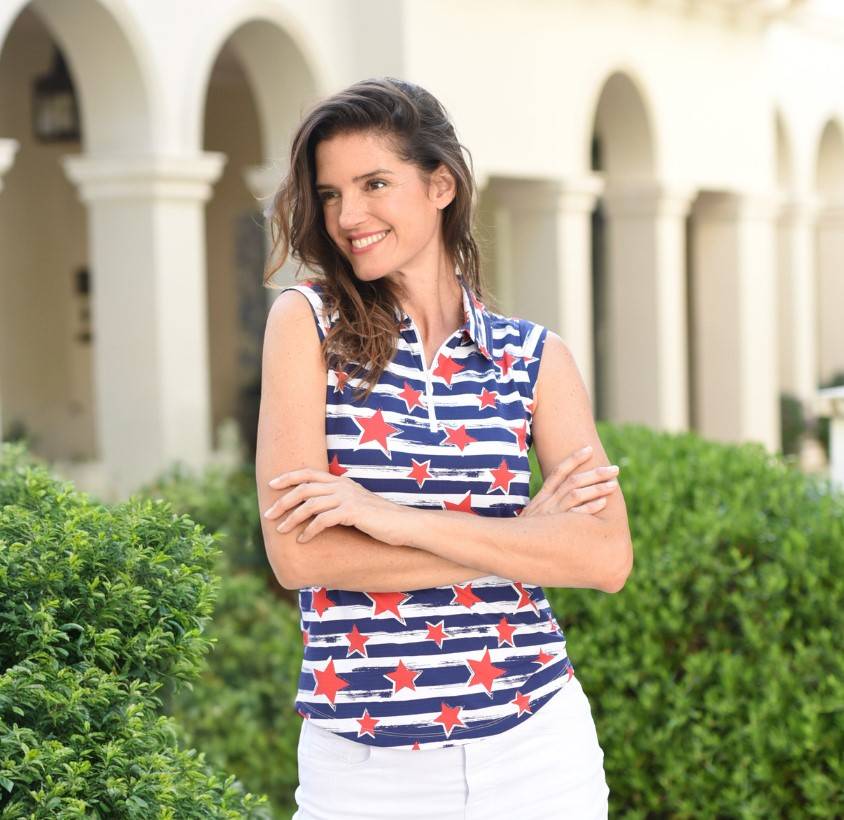 Anthony's Top Memorial Day Outfit Ideas
Honor the flag in style with these Memorial Day outfits. From red, white, and blue to versatile neutral tones, Anthony's Ladies Apparel has something for your fashion tastes. Be in style as you celebrate with family and friends on the long weekend.
1. Sleeveless Polo + White Capri
This blue Ana Clare sleeveless polo and Krazy Larry capri pant combo works well for outdoor barbecues, picnics, or even a stroll in the park. Complete the look with sandals and a hat to stay cool and comfortable.
3. Maxi Dress + Denim Jacket
Pair a Mlle Gabrielle maxi dress with a denim jacket for an outfit that can easily go from day to night. Whether dressed up with wedges or dressed down with sandals, this ensemble is perfect for looking elegant during a busy Memorial Day weekend.
Spending the holiday by the pool or at the beach? Our resort wear collection includes swimwear that pairs perfectly with a cover-up. Try out this Bleu by Rod Beattie one-piece with a Jordan Taylor cover-up. Don't forget to bring a pair of flip-flops and a beach tote!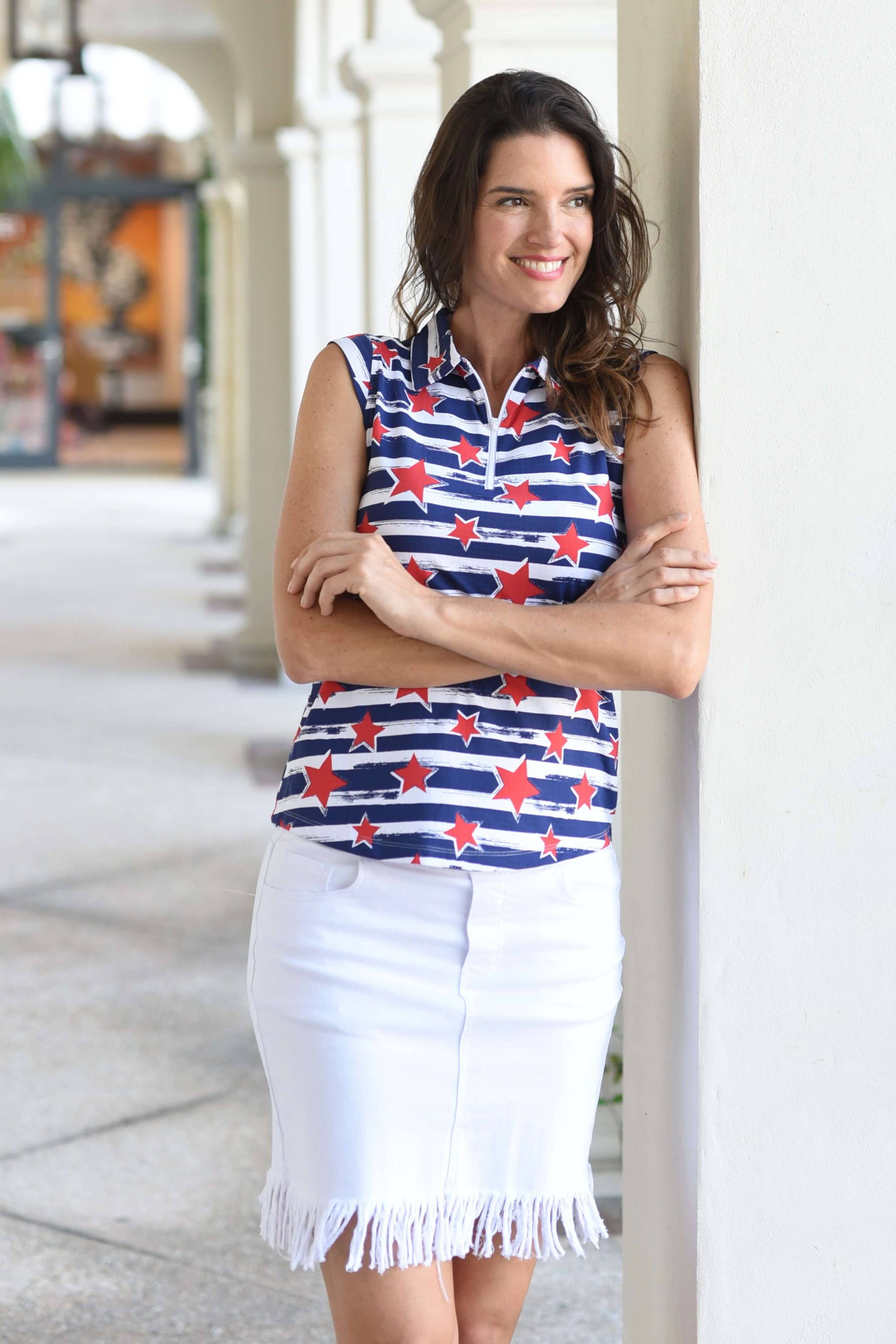 All-American Style: Create a Memorial Day Outfit with a Sun Shirt

Make a statement this Memorial Day with IBKUL's Americana Stars sun shirts. These versatile pieces- available in both long-sleeve and sleeveless varieties aren't only totally on point for the occasion but also for all-year wear. Follow these styling tips to look on-theme and effortlessly chic.
Pair with with white pants and red sandals for a classic look.
Go for a more casual outfit with navy blue shorts and white sneakers.
Try the sleeveless variety with denim cutoffs and flip-flops for a beachy vibe.
Round off your ensemble with a straw fedora, oversized sunglasses, and red lipstick for extra flair.
Featuring antimicrobial, moisture-wicking fabric with cooling IceFil technology, show your patriotic spirit and stay sun-protected with these starry IBKUL sun shirts.
Shop our full collection of sun protection clothing today to glam up your Memorial Day outfit!